Momofuku Tingly Chili Wavy Noodles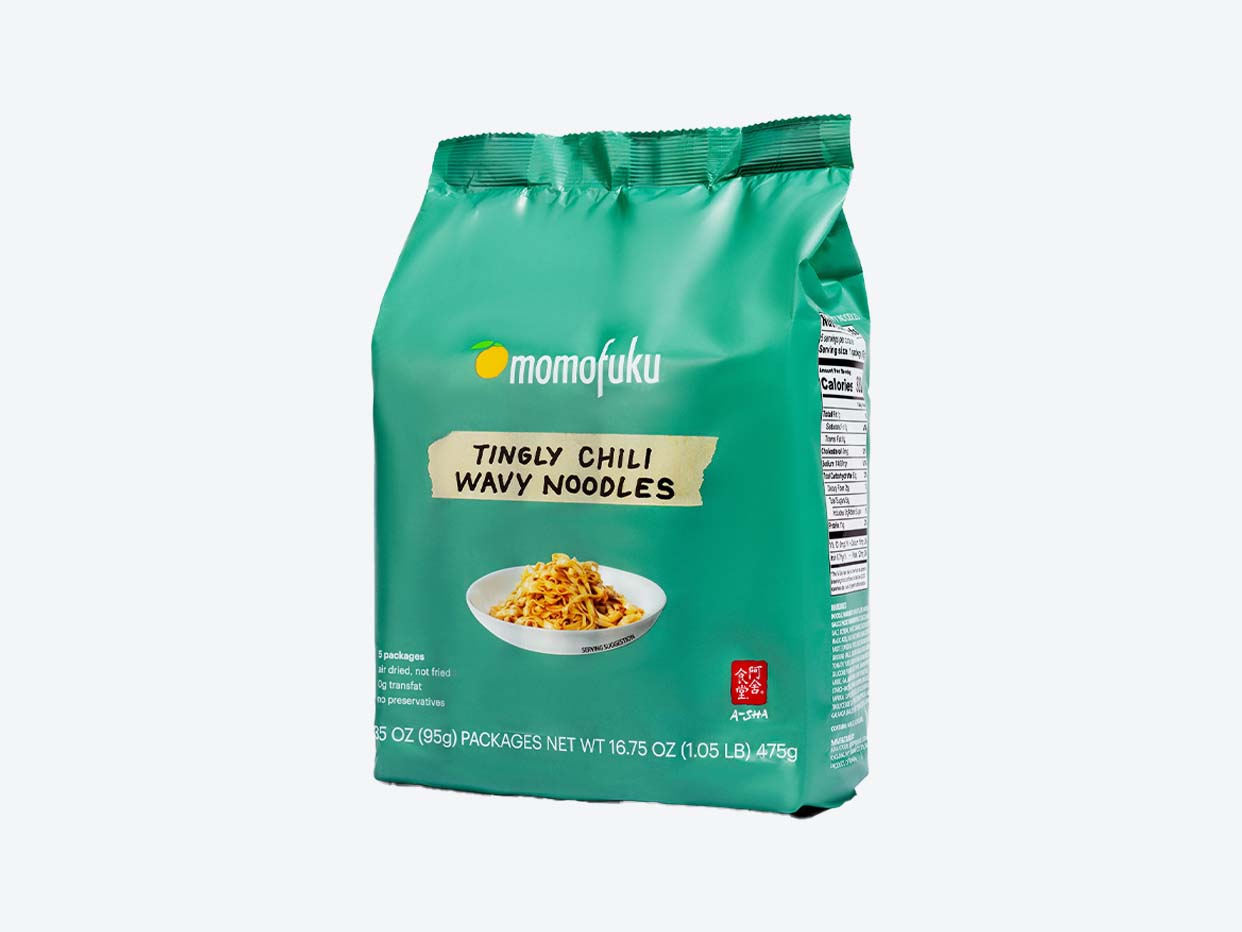 Momofuku Tingly Chili Wavy Noodles
30 min delivery · 5 min pickup
Developed by Chef David Chang, these never-fried noodles are made with additional Sichuan peppercorns, chili, soybean, and wheat for added flavor and fragrance. Contains 25% fewer calories and double the protein of instant ramen.
Why You'll Love It:
Meet the next generation of dried noodles that takes the convenience of instant-cook noodles with restaurant-grade flavor. Plus the fact that they're air dried and not fried means they're more nutritious than ever. They're savory, spicy, tingly, and the perfect answer to, "what's for dinner?"
Ingredients
Noodle: Wheat Flour, Water, Salt

Sauce Packet: Soy Sauce (Water, Sugar, Salt, Soybean, Wheat, Caramel Color, Yeast Extract, Malic Acid), Chili Paste (Water, Sugar, Soybean Oil, Spicy Paste [Capsicum, Spices, Salt], Ground Chinese Cabbage, Ground Garlic, Ground Ginger, Ground Carrot, Tomato Puree, Ground Onion, Ground Green Onion, Glucose Powder, Salt, Pepper, Sichuan Peppercorn, Anise, Galanga, Soybean, Yeast Extract, Food Starch-Modified, Paprika Oleoresin [Canola Oil, Paprika, Capsicum Extract], Lactic Acid, Medium Chain Triglyceride Oil, Pepper, Sichuan Peppercorn, Anise, Galanga, Barley),White Sesame Oil (Soy Oil, Sesame Oil)

Preparation Instructions
1. Bring at least 4 cups water to a rolling boil.
2. Add noodles and cook for 4 minutes (please adjust cook time longer for a softer noodle).
3. Drain noodles from water after cooking.
4. Add sauce packet into the noodles.
5. Mix and enjoy with your favorite sauce while warm!

Momofuku was founded by Chef David Chang in 2004 with the opening of Momofuku Noodle Bar in New York. Momofuku has restaurants in the United States and Canada as well as this line of restaurant-grade cooking products.