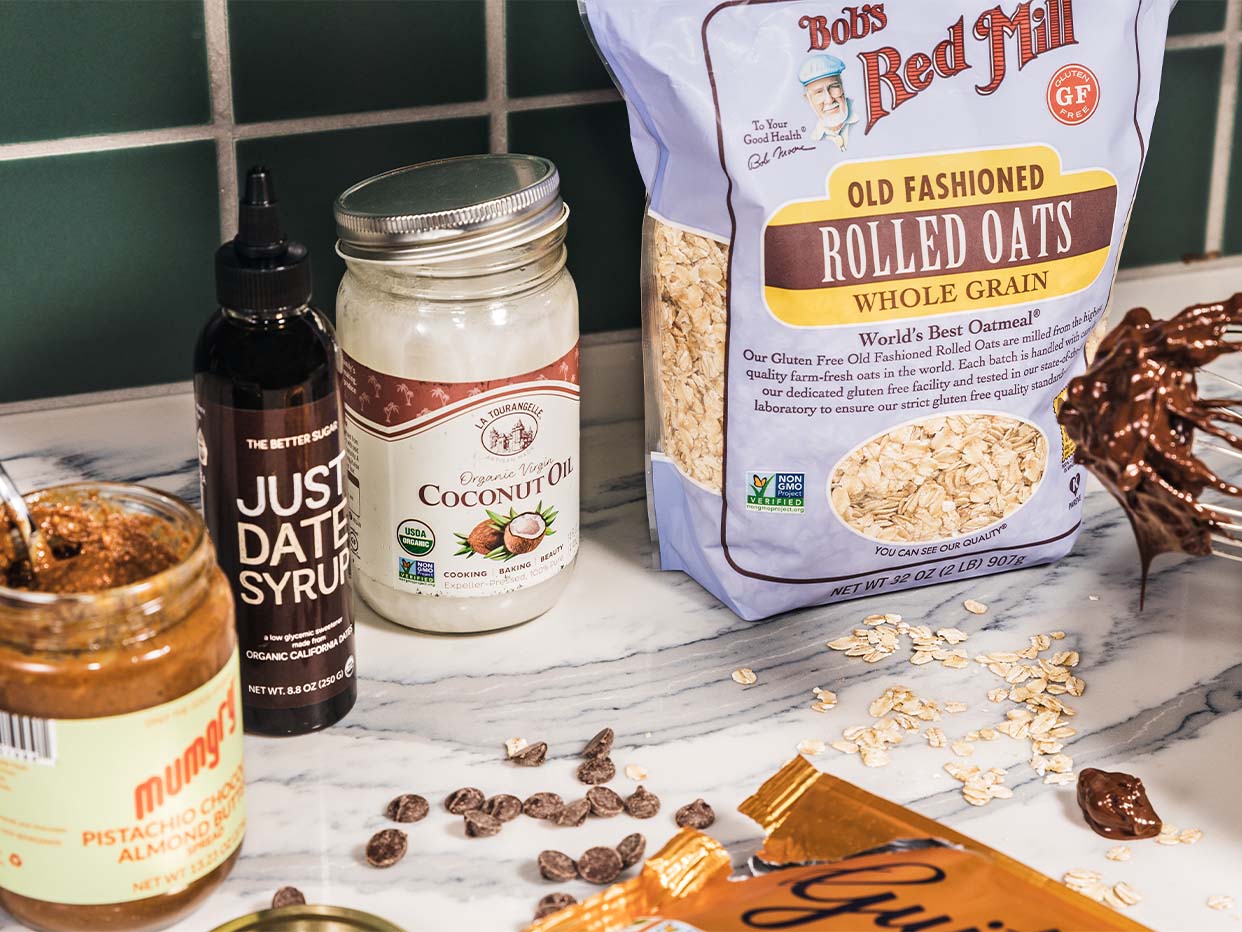 Samah Dada's No-Bake Almond Butter Chocolate Bars Bundle
$43.20  

$48.00

  ·  

1 Bundle
30 min delivery · 5 min pickup
Current offer:
10% off Breakfast Bundles
All the ingredients needed to make the signature no-bake almond butter chocolate bar recipe, created for Foxtrot by Samah Dada. Bundle includes: MUMGRY Pistachio Chocolate Almond Butter, Just Date Syrup, Bob's Red Mill Old Fashioned Rolled Oats, Guittard Semi-Sweet Chocolate Chips, and La Tourangelle Coconut Oil.
Why You'll Love It:
Author and recipe developer Samah Dada's culinary approach puts plant-based ingredients at the center of dishes that are simple to execute, healthy, and good to planet Earth. We love food that tastes good, and we love it even more when it's women-engineered and ecologically sustainable.
Preparation Instructions
Ingredients
1 cup + 1 tbsp Mumgry Pistachio Chocolate Almond Butter
1/4 cup + 1 tbsp Just date syrup
3/4 cup oat flour (yield from about 3/4 cup rolled oats blended into a fine powder)

Topping
1 cup Guittard chocolate chips
2 tsp coconut oil

Line an 8x8 baking pan with parchment or wax paper.

In a medium bowl, add the almond butter, date syrup, and oat flour. Mix until thoroughly incorporated and a thick + sticky dough is achieved.

Place this dough into the lined pan, pressing it down using a rubber spatial (or hands) to ensure it is evenly distributed and reaches the edges of the pan.

In a separate bowl, combine the chocolate chips and coconut oil. Melt using the double boiler method, or in a microwave in 15-20 second increments, stirring throughout, until chocolate is smooth and glossy.

Pour the chocolate over the almond butter dough in the pan. Use the back of a spoon or a clean rubber spatula to ensure it is evenly distributed throughout the top of the almond butter filling.

Freeze for 30-40 minutes, until the chocolate is completely hardened and the almond butter is firm. Let thaw for a couple of minutes before slicing and enjoying. Store in the freezer for a week (if it lasts that long)!