About us
Foxtrot Anywhere: your favorites nationwide.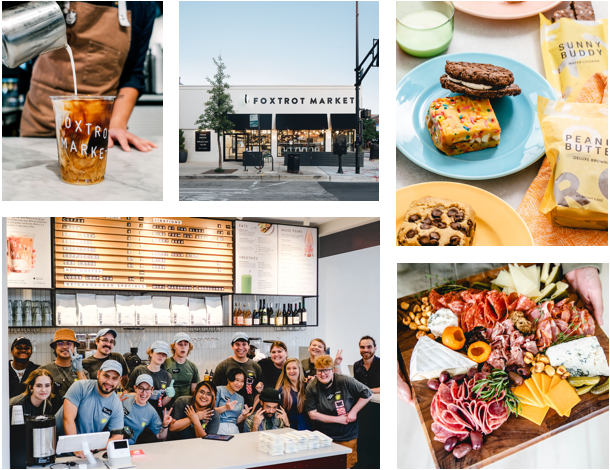 Hey, there! We're Foxtrot, and we're happy to see you're just as curious about good taste as we are.
Think of us as a new take on your typical corner store, but we don't just sell grocery items; we obsess over them. That means seeking out the most food-ambitious friends from around the nation to collab and cook with; that means sourcing the best ingredients to create crave-worthy new offerings of our own; and above all, that means bringing the best of small business, local makers, and culinary know-how to you—even when that includes taste-testing 900 nut butters until we find the best one.
We've always had this obsession with food, fueled by a sense of discovery, rooted in a commitment to our local neighborhoods, all powered by our on-demand delivery. So, we're thrilled to expand our community nationwide* with Foxtrot Anywhere, and connect even more people to the wonderfully tasty, thoughtfully sourced, and beautifully designed things we love. Wherever you are.
With our team of in-house chefs and foragers, we've handpicked a wide variety of our latest food obsessions, favorite things from small makers, and trending must-have products for any occasion. All of our gifts are hand-packed and custom wrapped, so you can assure that from the moment you checkout to the moment you receive the 'thank you!' text from your cousin in Denver, it was all carefully handled by our team.
Whether your foodie-in-law in Oregon is homesick for their favorite Chicago coffee, a friend away at school in Cali could use a comforting batch of our scratch-made brownies, or you simply want to stock up on your favorite things, we make spreading a little joy easy (and we guarantee that whatever you discover beats the typical fruit basket).
Join our journey of discovery.
*sorry Hawaii and Alaska.