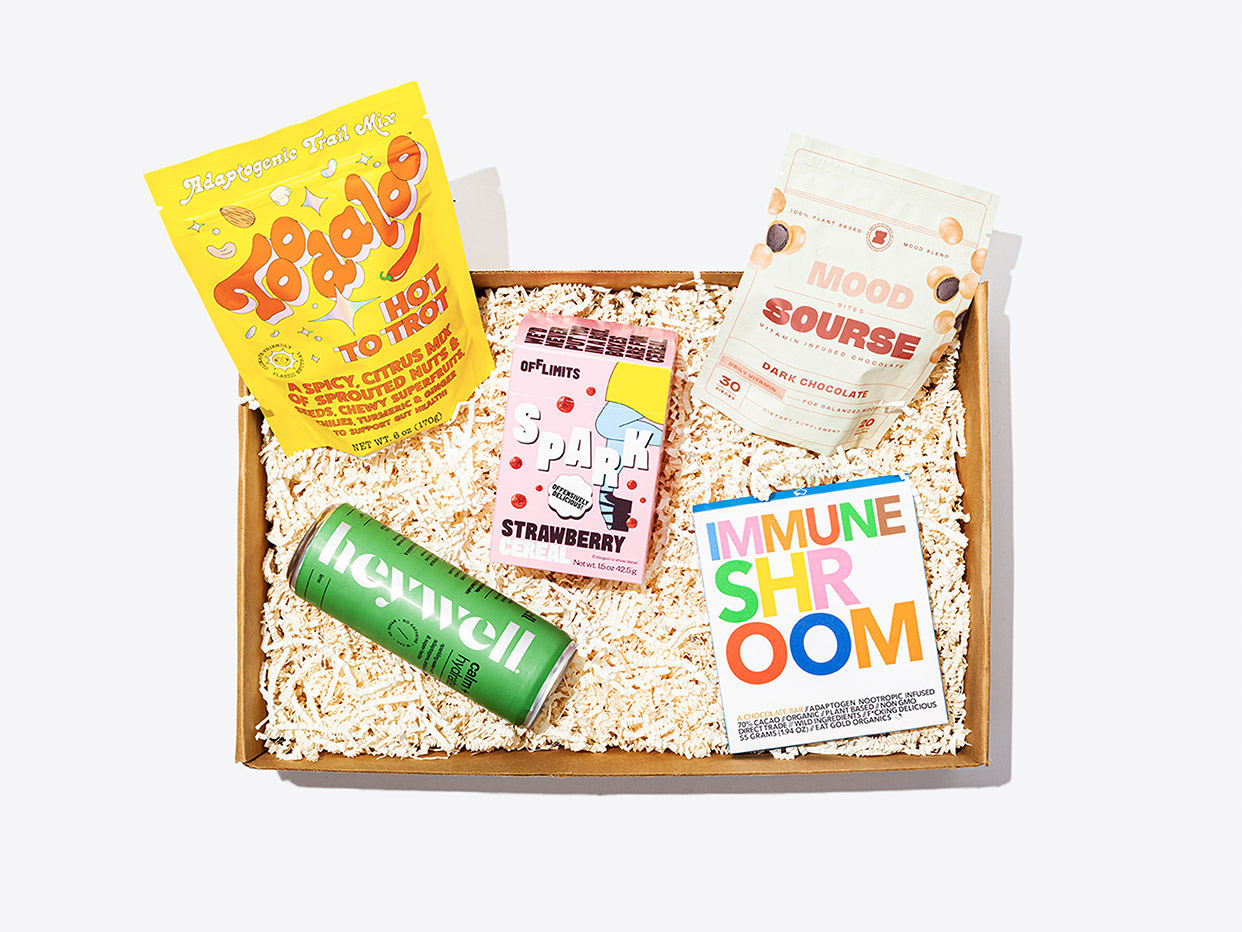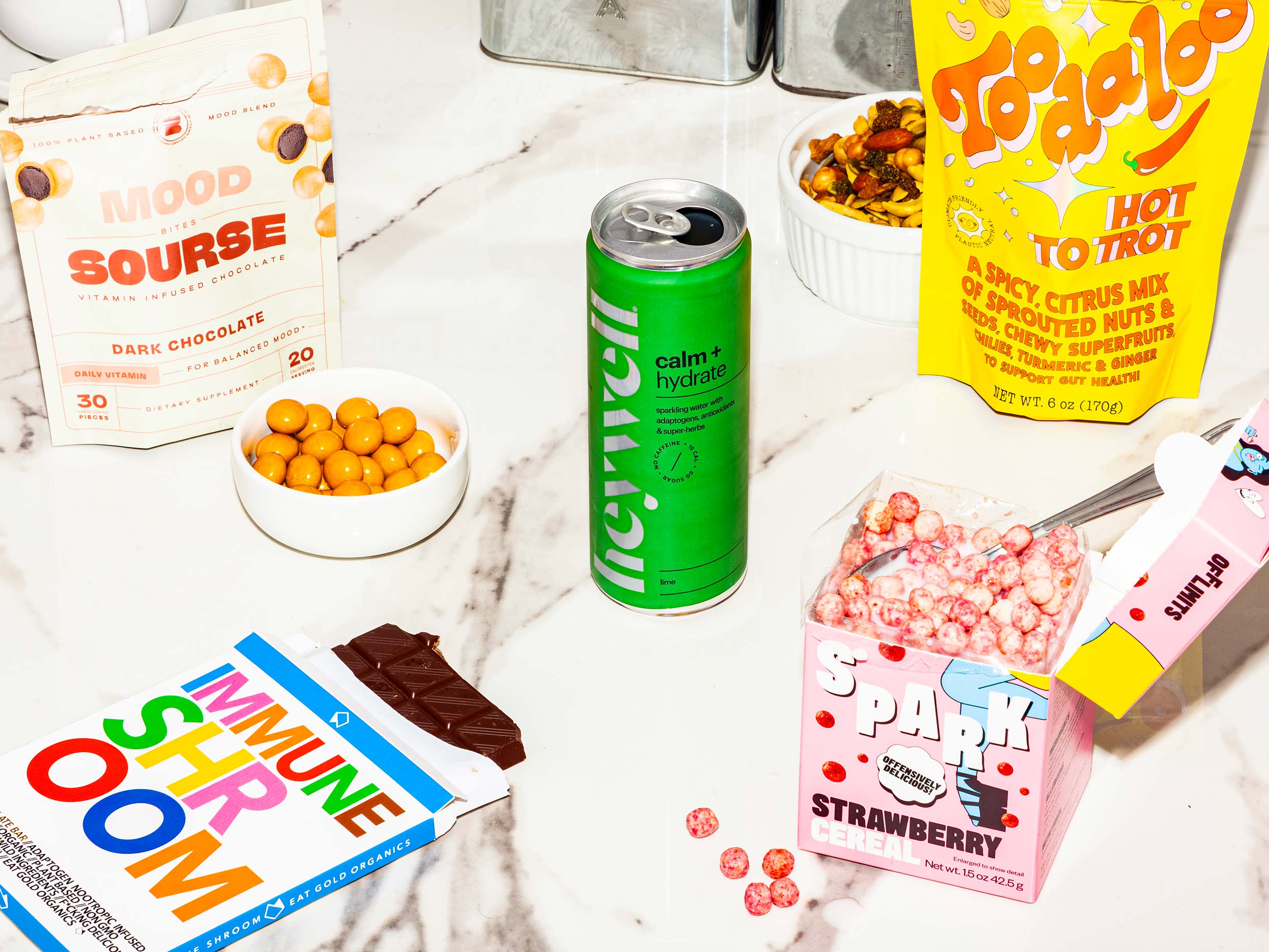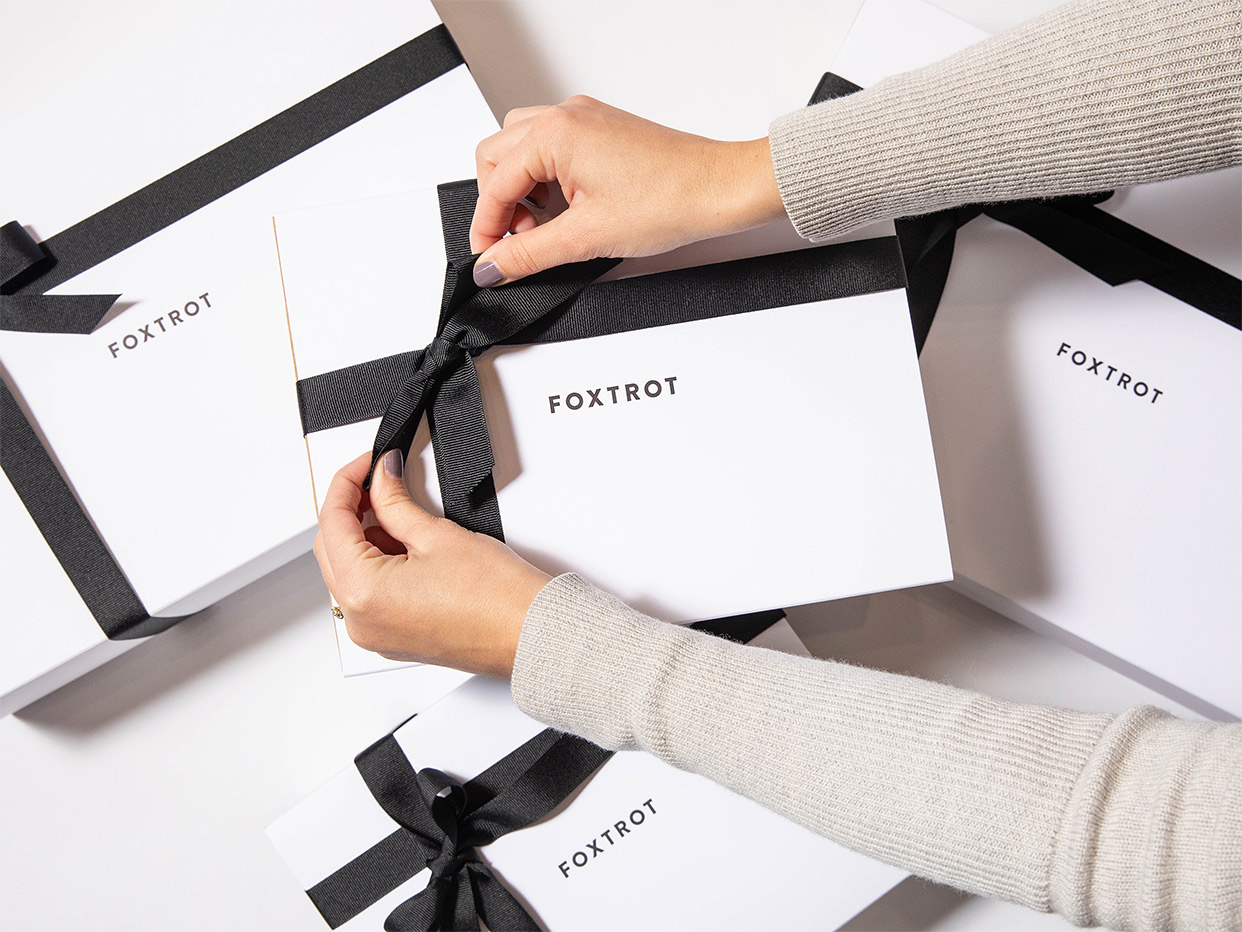 Adaptogenic Gift Box
A roundup of the adaptogenic snacks we're reaching for on repeat for the 2022 reset. Includes: Toodaloo's superfood Smoke Show adaptogenic trail mix; Heywell's Calm + Hydrate sparkling tonic made with vitamins and natural ingredients; Sourse's saffron and Vitamin D plant-based chocolate gems; Off Limits Cereal's plant-based 'Spark' cereal; and the Immune Shroom Adaptogenic Chocolate Bar made from mushrooms and 70% cacao.
Why You'll Love It:
Adaptogens are plant-based ingredients that help your body balance out and bounce back from the day-to-day stressors of life. And these makers are leading the functional snacking renaissance with recipes that taste good and do better by your body. Off Limits makes plant-based cereal "offensively delicious"; even navigating their website is a fun time (but way more fun to eat). After breakfast, your office desk could use Toodaloo's zesty, hot, turmeric-and-ginger covered trail mix. Superfruits and sprouted nuts have never been sexier for gut health. Heywell is the sparkling, vitamin-rich blend for the midday slump, while Sourse's "Mood" chocolate gems will revive that sweet, sweet serotonin to help finish the work day. Finally, dessert! And Immune Shroom is the honest-to-goodness best way to get your daily dose of functional mushrooms and organic dark chocolate all in one. Now go to sleep nourished and repeat.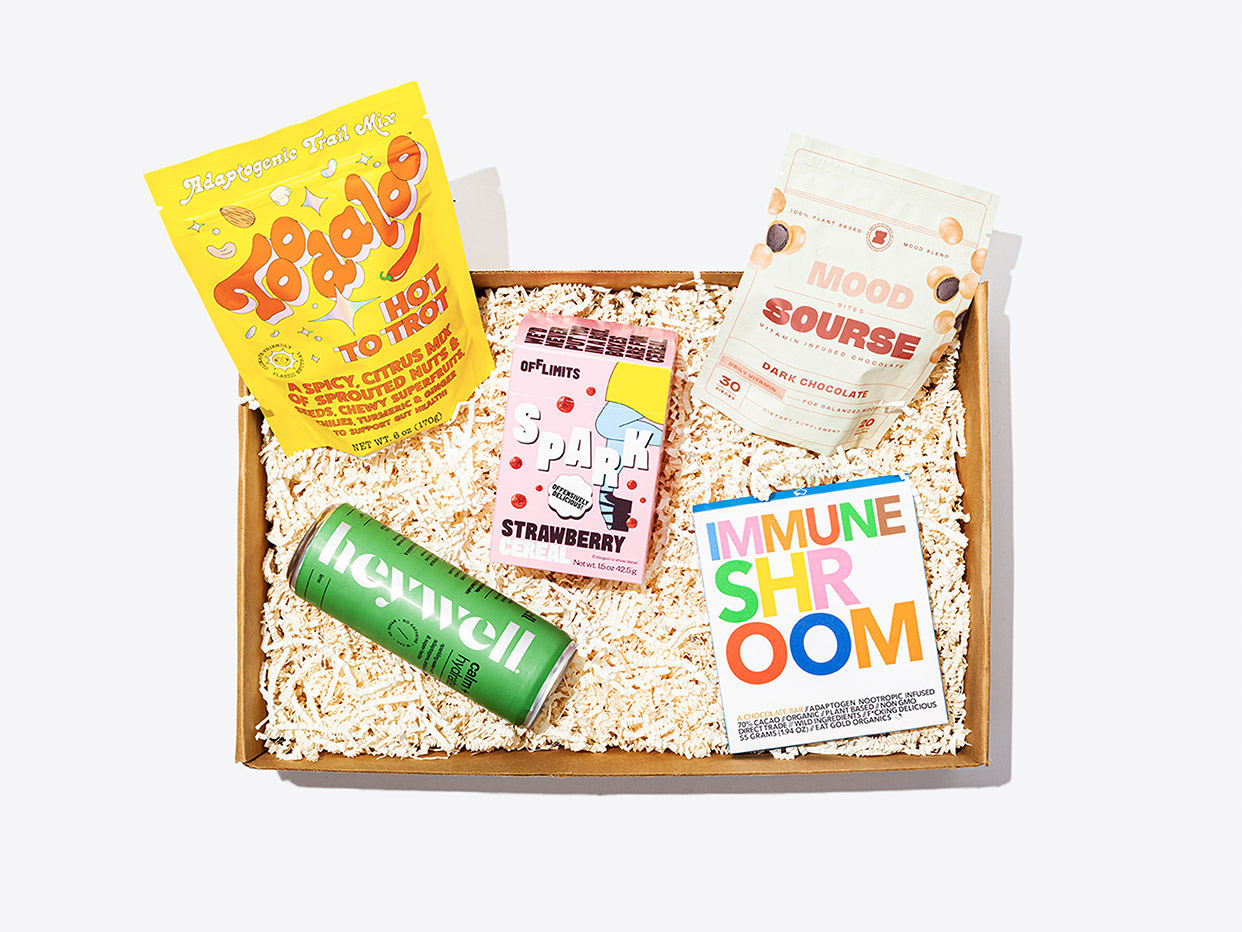 What's Inside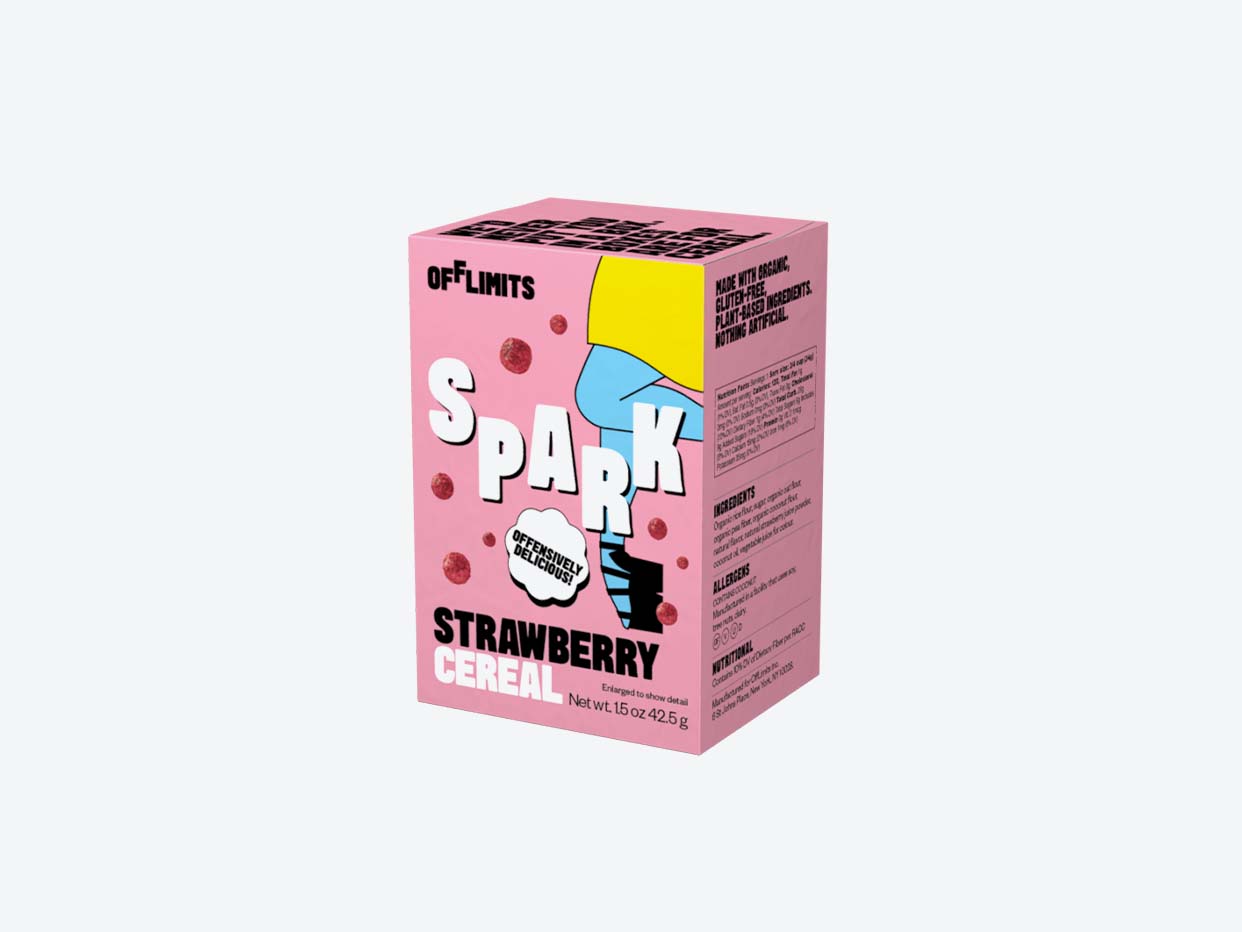 OffLimits Cereal - SPARK
Vegan and gluten-free cereal made from strawberry, organic oats, rice, coconut flour, and natural sweeteners. Strawberry is a fruit rich in antioxidants, known to improve immunity and brain function.
Why You'll Love it
Off Limits takes all of the fun of our favorite childhood cereals, and creates something healthier and just as enjoyable for adults. And Spark is the bounce-back needed for when we're out and about, living our best life, and need recovery from all the fun.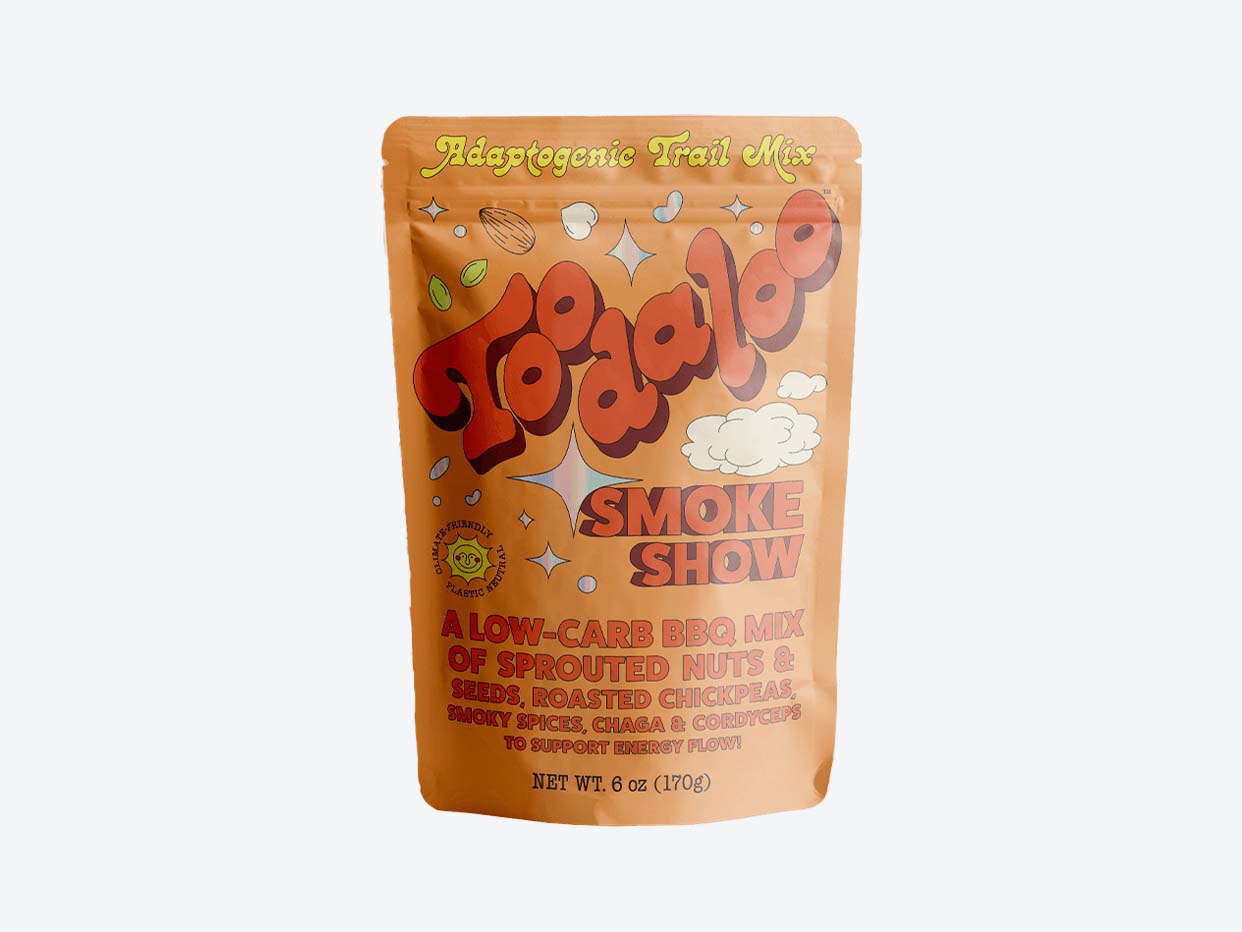 Toodaloo - Smoke Show
A low-carb, adaptogenic, BBQ trail mix made with raw and sprouted almonds, walnuts, pumpkin seeds, sunflower seeds, roasted chickpeas, lemon peel, chilies, cumin, and smoky spices. Infused with adaptogenic mushrooms including Chaga and cordyceps to support a feisty mood.
Why You'll Love it
Go ahead, have another bowl-full. For how nutrient-dense it is, this is still a low-carb savory mix full of addictively tasty spices, sprouted nuts, and antioxidant-rich mushrooms. Your immune system will thank you after this blend helps to naturally perk it up a bit.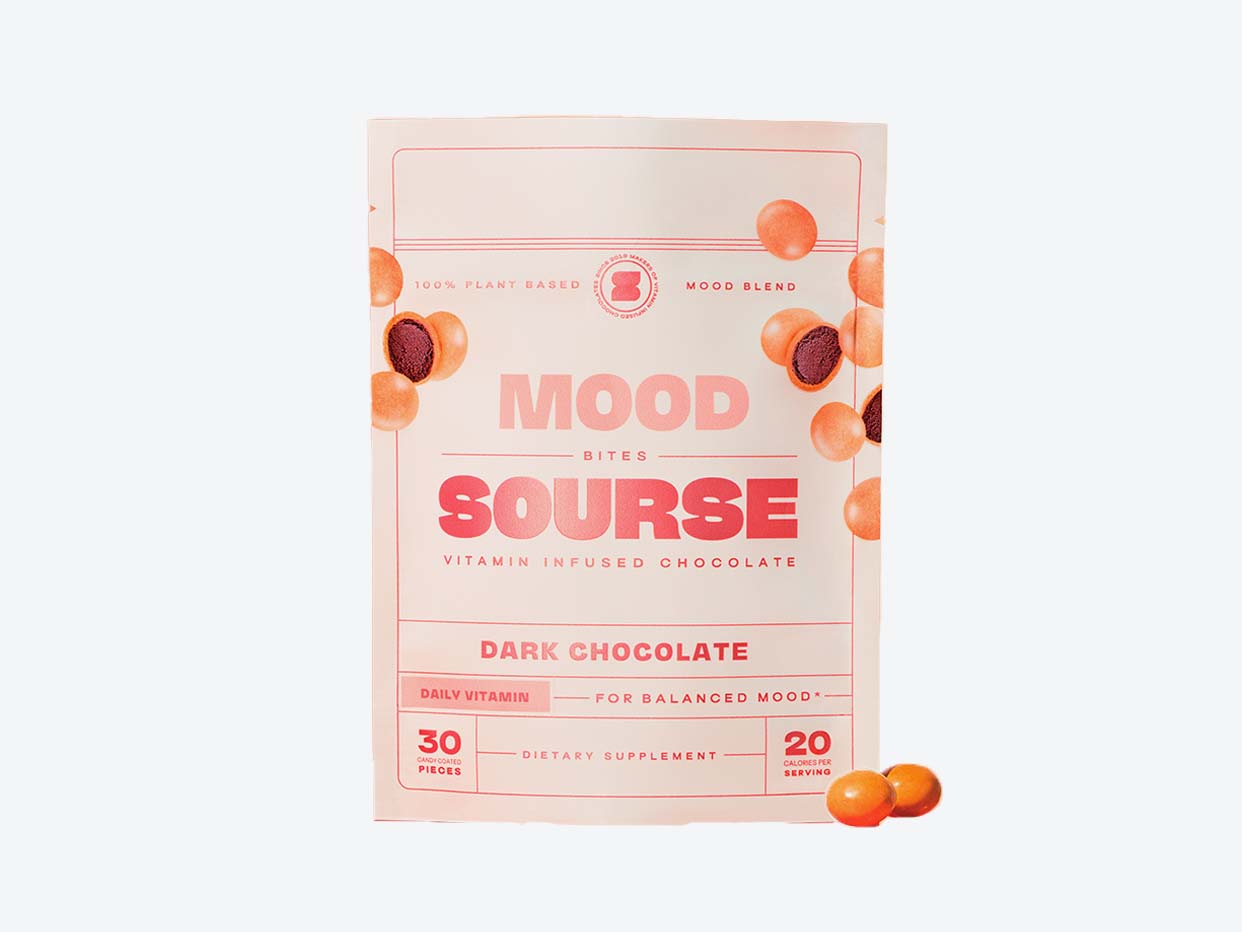 Sourse - Mood Bites
Mood Bites are vitamin-infused chocolates made from a blend of dark chocolate, 30 mg of saffron extract/Safranal (a natural chemical in saffron that helps boost serotonin), and Vitamin D3 sourced from algae—the same type we naturally absorb through the sun). Take 2 a day to help reduce stress and balance mood in two weeks.
Why You'll Love it
Saffron has been used to naturally reduce stress for centuries. Sourse was just ingenious enough to fuse it with tasty chocolate and Vitamin D3 for a super supplement that helps reduce stress and improve mood. It may just be your favorite meal of the day, everyday.
Heywell Calm & Hydrate Sparkling Lime
A sparkling adaptogenic wellness drink made with lime, L-theanine, lemon balm, Schisandra, and pink Himalayan sea salt. L-theanine is an amino acid found in green tea to promote tranquility. Lemon balm helps to naturally calm nerves. Schiansdra is an antioxidant super berry that helps de-stress and support immunity.
Why You'll Love it
Heywell was doing adaptogenic awesomeness before it was cool, and we're proud to have called them besties for this many years! This latest Lime flavor speaks to the mellowing of moods—not just from the functional ingredients that calm the mind, but from a taste profile reminiscent of a tropical drink. We're tempted to use this as mixer, but not before enjoying a few as-is during the work week.
Immune Shroom Adaptogen Chocolate
Immune-boosting chocolate made with organic cacao, coconut sugar, pure cacao butter, reishi powder, Chaga powder, and cordyceps powder.
Why You'll Love it
A chocolate scientifically made to taste great and give you a healthy boost! It's the easiest way to give your immune system a helping hand in fighting off bad vibes, because have you seen that adaptogenic mushroom lineup? They're like a rap group but for your body.
Gift Wrapping
Custom Foxtrot gift wrapping.
And did you know our gift wrapping is free for orders over $50? Just select it at checkout, pick out a notecard, and it's on us!
Continue Shopping