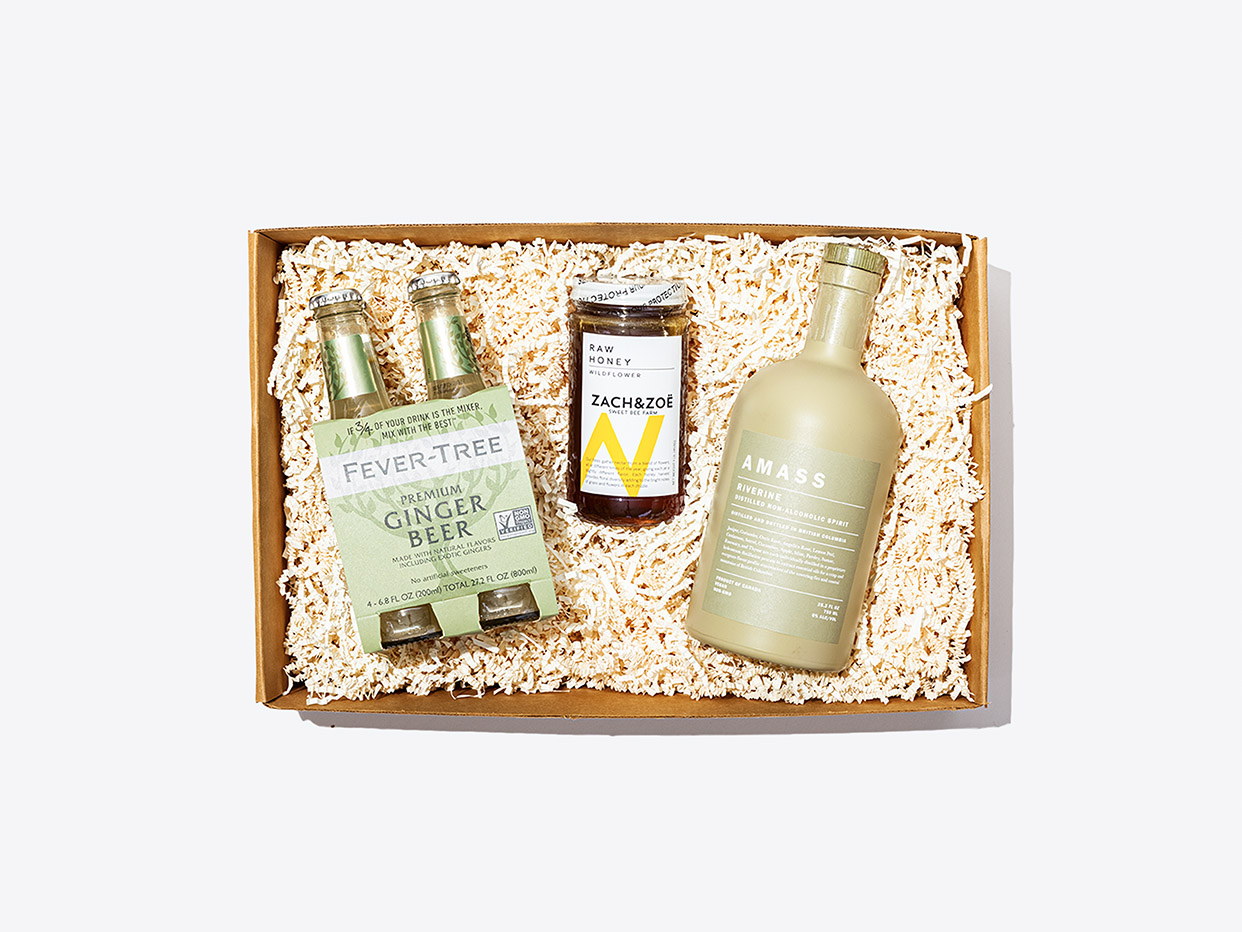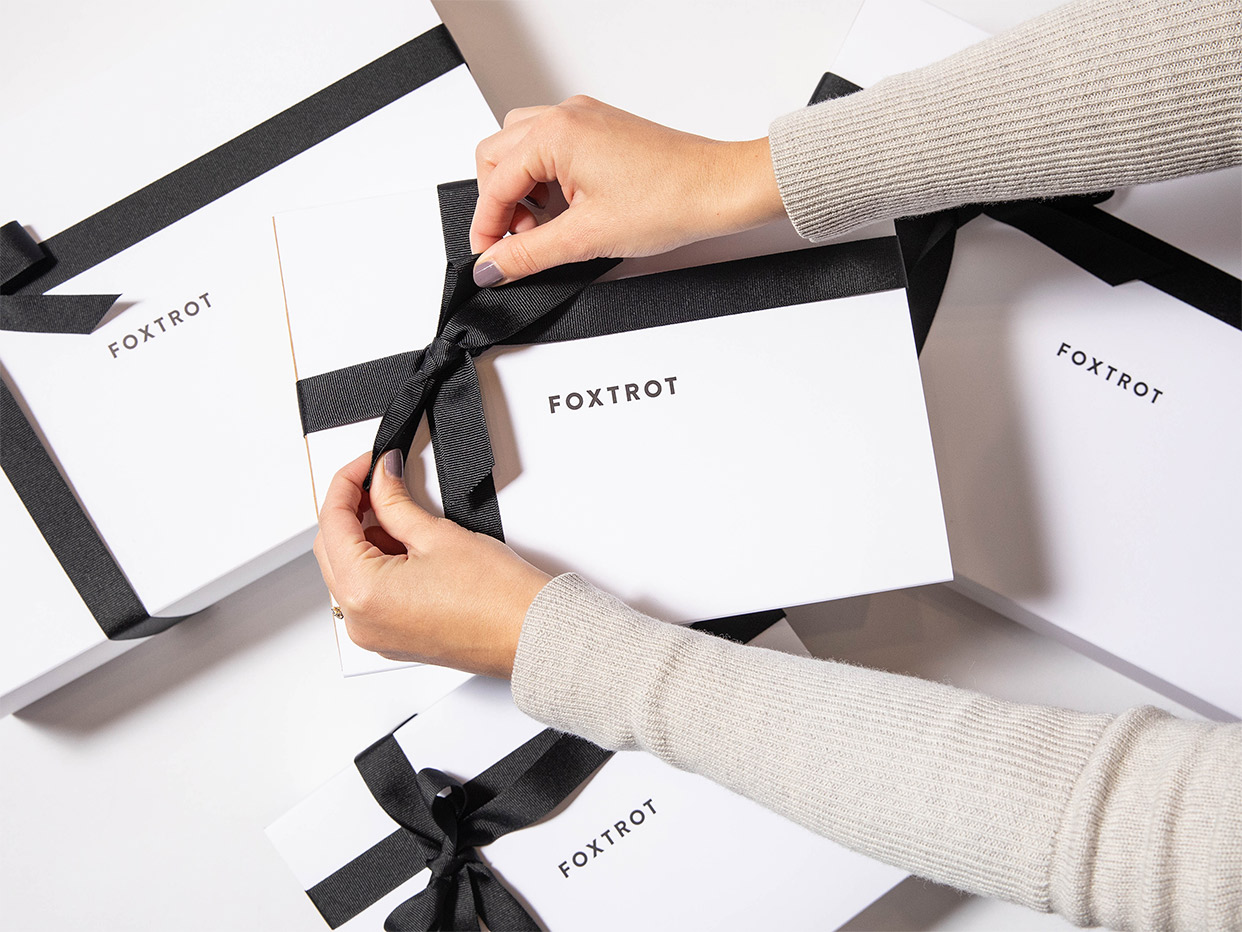 Amass Mosc(NO) Mule
Make a fragrant, botanical, and sweetly spiced Moscow Mule at home—with zero alcohol! Includes: AMASS's Riverine N/A Spirit hydro-steam-distilled from real evergreen botanicals; a 4-pack of Fever Tree's natural ginger beer; and Zach & Zoë's hand-harvested wildflower honey.
Why You'll Love It:
The Moscow Mule was one of your 1st cocktails, and this N/A take will be the last. AMASS's version is akin to taking a stroll through a coniferous forest and sipping in some of its lush leaves. Fever Tree unfolds its signature mix of Nigerian, Cochin, and Ivory Coast ginger root sip after sip, while Zach & Zoë's wildflower honey tempers the whole cocktail with a mellowing of flowers and herbs. What was once a basic dive bar bev has become anything but.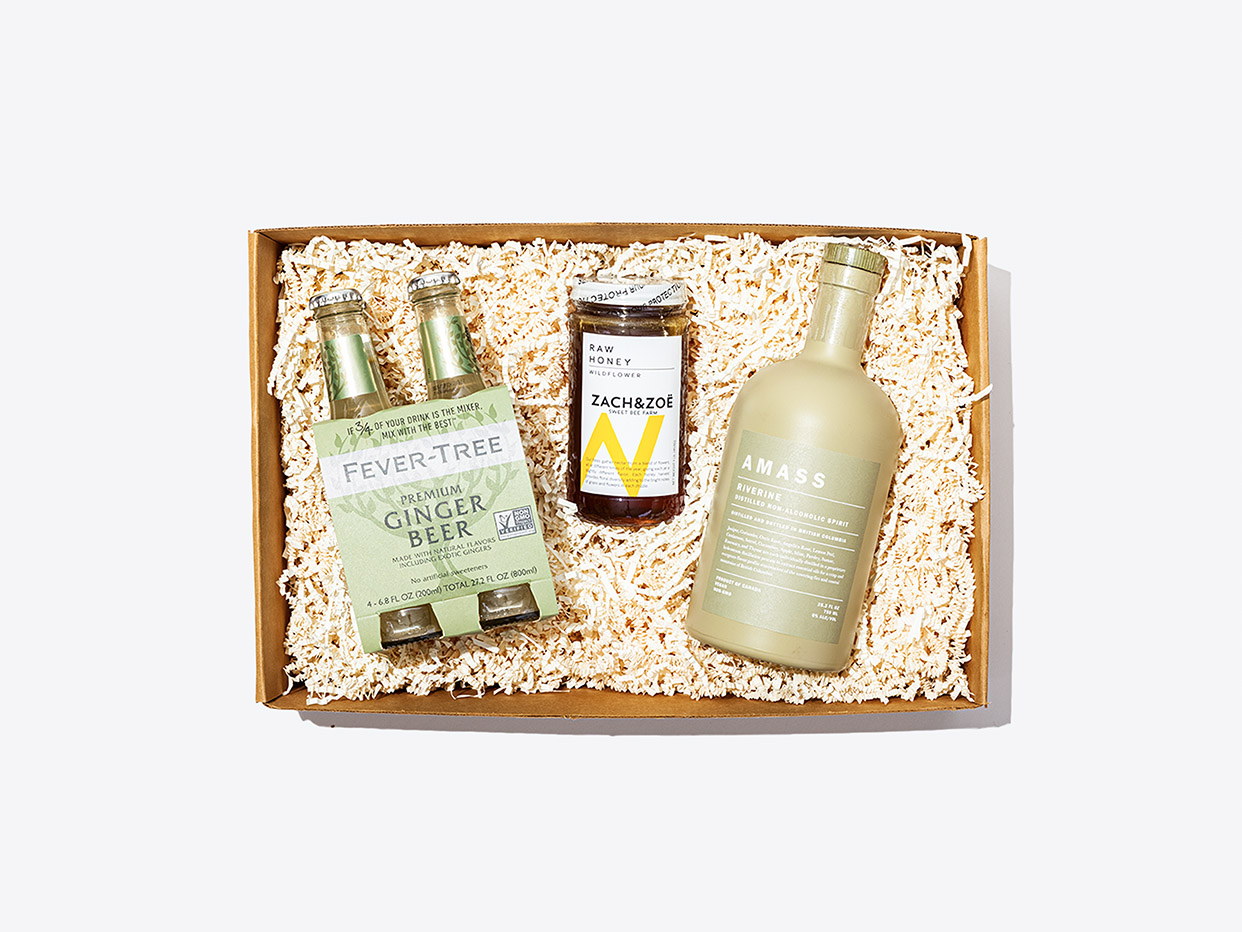 What's Inside
Zach & Zoë Sweet Bee Farm - Wildflower Honey
Raw honey with a blend of wildflowers gathered at multiple times of the year, giving it a unique flavor during each harvest. What began as raw honey for alleviating Zoë's son's allergies has since turned into months of research and beekeeping to bring natural, pure, wildflower honey to the masses.
Why You'll Love it
With greater floral diversity comes greater taste, greater antioxidants and minerals, and all-around better nectar! Zach and Zoë, we love you.
AMASS - Riverine Non-Alcoholic Spirit
Non-alcoholic spirit hyper-focused on the beauty of botanicals, each ingredient being individually hydro-steam-distilled to extract essential oils for a crisp and evergreen flavor profile. Zero calories.
Why You'll Love it
Okay, this straight-up tastes like Pacific NW rainforests and coastal mountains in British Columbia. Perfect for those that are sober-curious or just need to skip a night or two, Riverine is your move with some Topo, tonic, or even shaken in a gimlet.
Gift Wrapping
Custom Foxtrot gift wrapping.
And did you know our gift wrapping is free for orders over $50? Just select it at checkout, pick out a notecard, and it's on us!
Fever Tree Ginger Beer
Brewed from a blend of three gingers from Nigeria, Cochin and the Ivory Coast. Enjoy in a Dark & Stormy, Moscow Mule or on its own.
Continue Shopping