For the Love of Pasta Night
We ship toAll wines are sold and shipped by participating wineries.
If mom is a best friend, a sibling, a godparent, whoever—we can all agree that pasta nights bind us. Features flavors by Monte's family-owned pasta sauce, Enfield Wine's Pretty Horses Tempranillo, and Molino e Pastificio's handmade spaghetti. Tie the perfect family dinner vibe together with a new ceramic trivet from Octaevo in Barcelona.
Why You'll Love It:
We want to facilitate these delicious moments with mom alongside some exciting newness! That means breaking into this rustic 100-year-old pasta sauce recipe from Monte's, and mixing it with extra long spaghetti noodles from a 19th c. wheat mill on the Swiss/Italian border. Pair it with an expert-rec'd glass of Tempranillo, serve your main course atop a gorgeous handmade ceramic trivet from Barcelona, and this is a moment worth remembering for a person worth celebrating.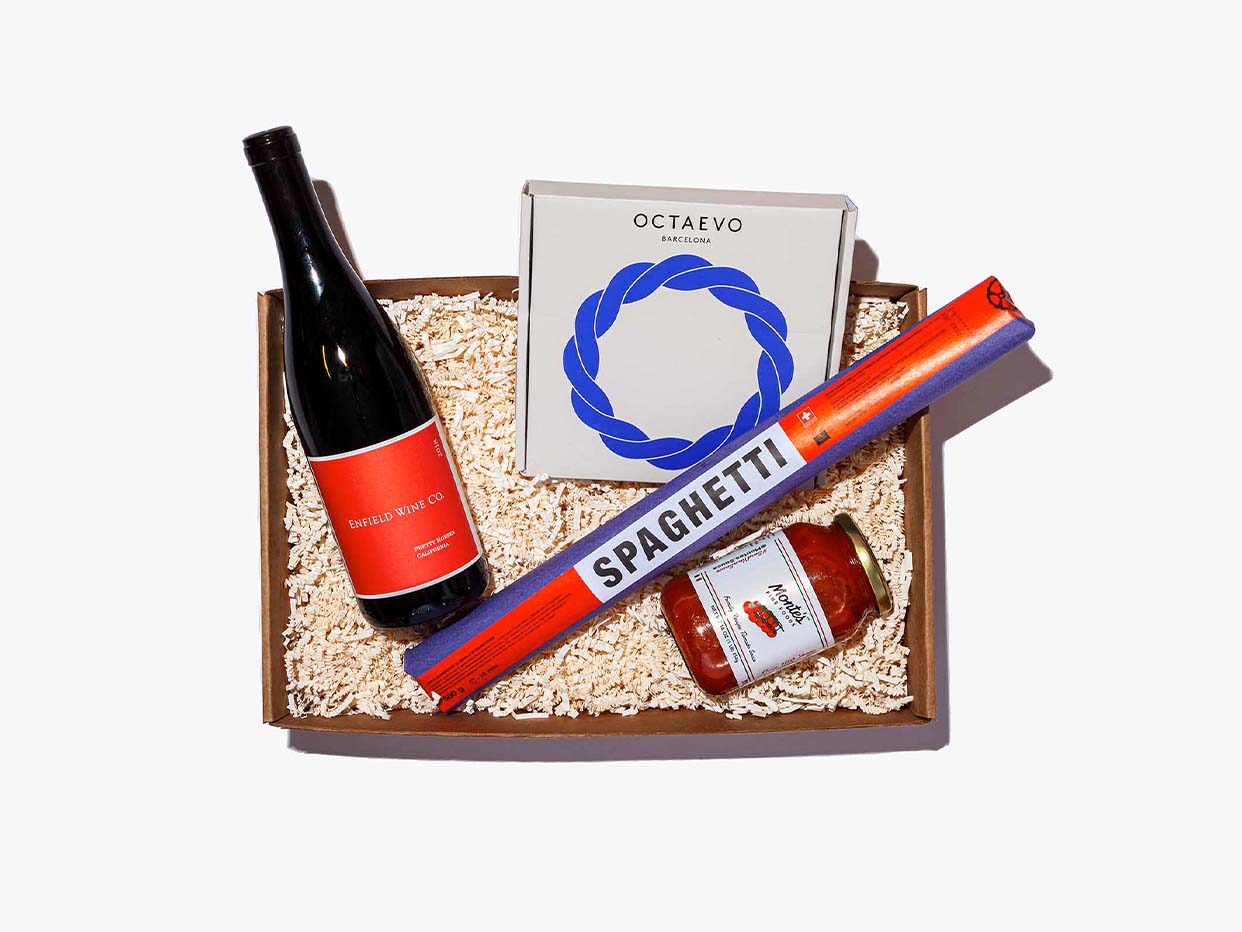 For the Love of Pasta Night
What's Inside
Octaevo Ceramic Trivet - Light Blue
Durable, handmade silica ceramic trivets finished with a glossy glaze. Easily protects your table from the heat of hot pots, sizzling pans, and steaming-fresh oven molds.
Why You'll Love It
"Fascinated by the Mediterranean's vivid colours, ancient philosophy, and mysterious myths, my products are designed to take you on an inspiring voyage." That's the founder of Octaevo, Marcel Baer. Each piece from his Barcelona studio is made with sustainability and originality in mind, bringing your space a one-of-a-kind functional art piece that connects new perspectives with the people.
Monte's Fine Foods - Tomato Sauce
A rustic, 100+ year old tomato sauce recipe made with eight natural ingredients. They've been serving authentic Neapolitan fare ever since they emigrated to Brooklyn in 1906 from Sant'Angelo di Lombardi & Avellino, Italy. Proud Clean Label product.
Why You'll Love It
This is the gold standard that elevates any weeknight pasta night. With a flavor that's been polished over 100 years, this is easily the jar we go to for a rich, luscious, and manageable red sauce.
Poschiavo Spaghetti
Extra-long handmade spaghetti noodles from a 19th c. wheat mill on the Swiss/Italian border.
Why You'll Love It
Over 100 years ago a small Augustinian convent was converted into a pasta mill, and to this day it creates some of the world's best noodles! The space is both a mill for their high-quality durum wheat, as well as a pasta factory. Everything from the locally grown grains, to the spring water that runs nearby, to the handpacking of each noodle is the result of a century of practice and love for food.
Enfield Wine Co., Pretty Horses Tempranillo
Soft cherry, black walnut, sassafras and toasted marshmallow.
Why You'll Love It
This delicate, elegant, and playful wine from John Lockwood is the definition of "greater than the sum of its parts." The California blend combines Tempranillo, Grenache, Graciano, and Pinot Noir and tastes nothing like a traditional Spanish Temp or Rioja, but instead, is light and juicy! While most of the grapes come from Shake Ridge Ranch—a vineyard with 40 acres of rolling hills that produces many different microclimates in one site—the Pinot Noir is from Heron Lake Vineyard in Wild Horse Valley AVA, giving this wine its name.
Winemaking Style
Partially de-stemmed, native fermentation, 11 months in 500L and 225L French oak barrels, 10% new