Ghia Pal(NO)ma
Enjoy a tropical non-alcoholic Paloma at home. Made with: Ghia's bitter non-alcoholic aperitif; Fever Tree's craft Sparkling Pink Grapefruit mixer; Maldon's hand-foraged Sea Salt to rim; and Ghia's own Edible Flowers for garnish.
Why You'll Love It:
This gift says that you're the life of the party, while also being able to remember it the next morning. Ghia's OG bitter aperitif sings to the tart citrus of grapefruit, transporting us instantly to a sun-drenched cabana. Maldon's sea salt tempers the vegetal bitterness with its briny, mineralic bite, while a garnish of edible flowers add a pop of earthiness, color, and drama to the collins glass. So with enough ingredients to make multiple, your N/A cocktail game is about to be beautifully top-tier.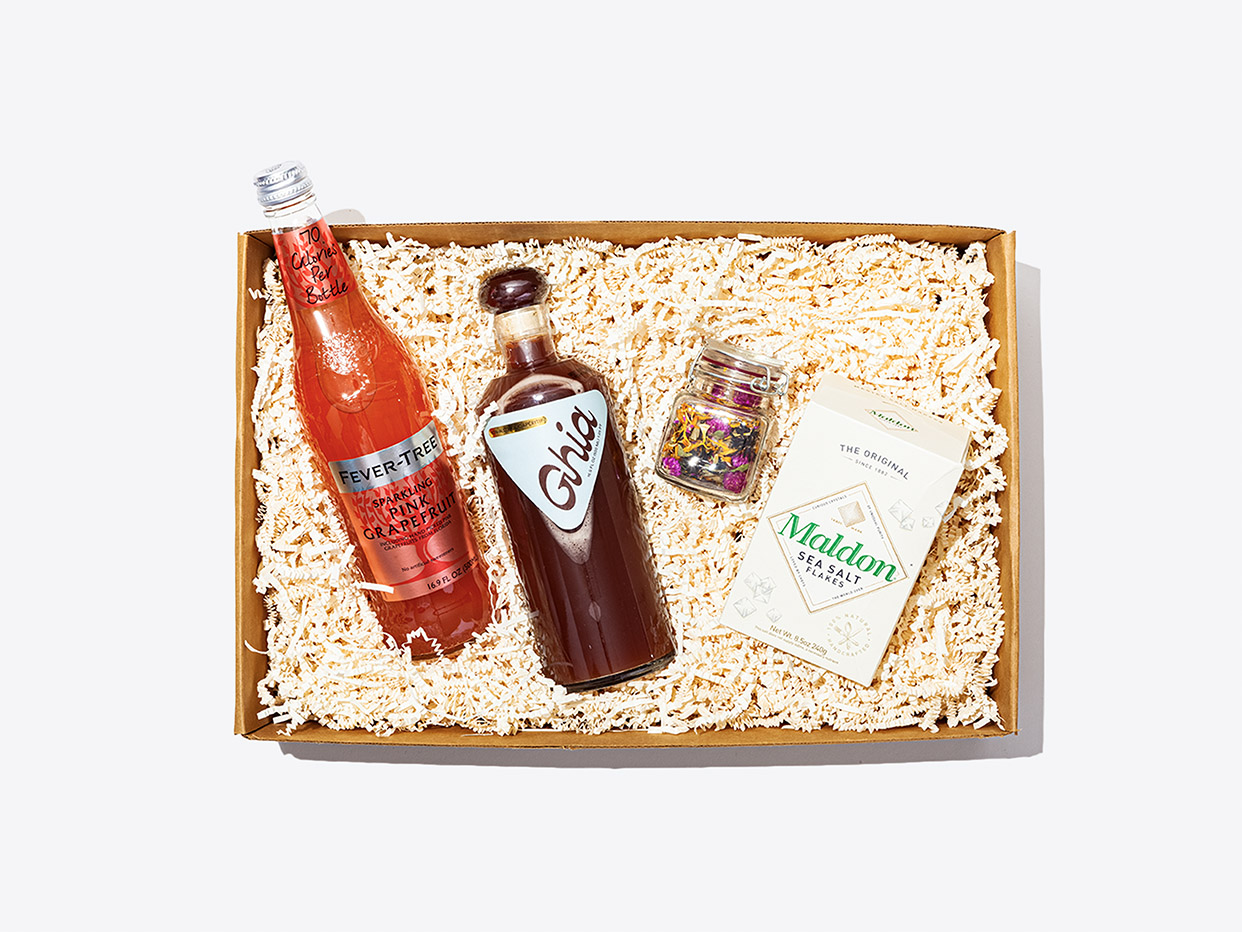 What's Inside
Ghia Edible Flowers
Ghia's own medley of Calendula, Bachelor Buttons, and Gomphrena flowers to garnish your cocktails with an edible pop of color.
Fever Tree Sparkling Pink Grapefruit 16.9 oz
Made with real juice from handpicked pink Florida grapefruits. An impressive upfront burst of fresh grapefruit carefully balanced with soft pink grapefruit floral notes.
Why You'll Love it
This is hands down the perfect complement to premium tequila and vodka, splashing this over rocks for a no-fuss upgrade.
Ghia Non-Alcoholic Apéritif
Ghia is a non-alcoholic apéritif packed with only pure, natural extracts. Potent plants, heady herbals, and blithe botanicals combine for a completely natural, soothing, stimulating experience. Made with nervines: herbs known to soothe the mind and bring the body back from burnout.
Why You'll Love it
"Until Ghia, we had seen countless new products come across our desk looking to provide an alt to our trusty friend, booze, but the taste never lived up to the hype. Ghia, however, is the rare N/A product that rises above—fully confident in itself, rather than making excuses for what it's not. Herbal, bitter, and with enough complexity and astringency to bite back, it's the perfect companion to settle down with on a weeknight. My go-to has been Ghia + Topo Chico poured in an Old Fashioned glass: 30 minutes in, and I'm more relaxed than ever." -Mike, co-founder of Foxtrot.
Maldon - Sea Salt Flakes
Premium, all-natural sea salt harvested from the UK using traditional long-handled rakes. Processed with no artificial additives in Essex on the River Blackwater.
Why You'll Love it
There's your traditional table salt and then there's Maldon's soft, flaky, pyramid-shaped crystals. The purity of the water's trace elements makes this salt more flavorful, so you can use less and get a clean, briny flavor. Maldon dissolves easily, is Chef-preferred, and is superbly clean for dressing up your carbs, salads, broths—you name it.
Gift Wrapping
Custom Foxtrot gift wrapping.
And did you know our gift wrapping is free for orders over $50? Just select it at checkout, pick out a notecard, and it's on us!
Continue Shopping