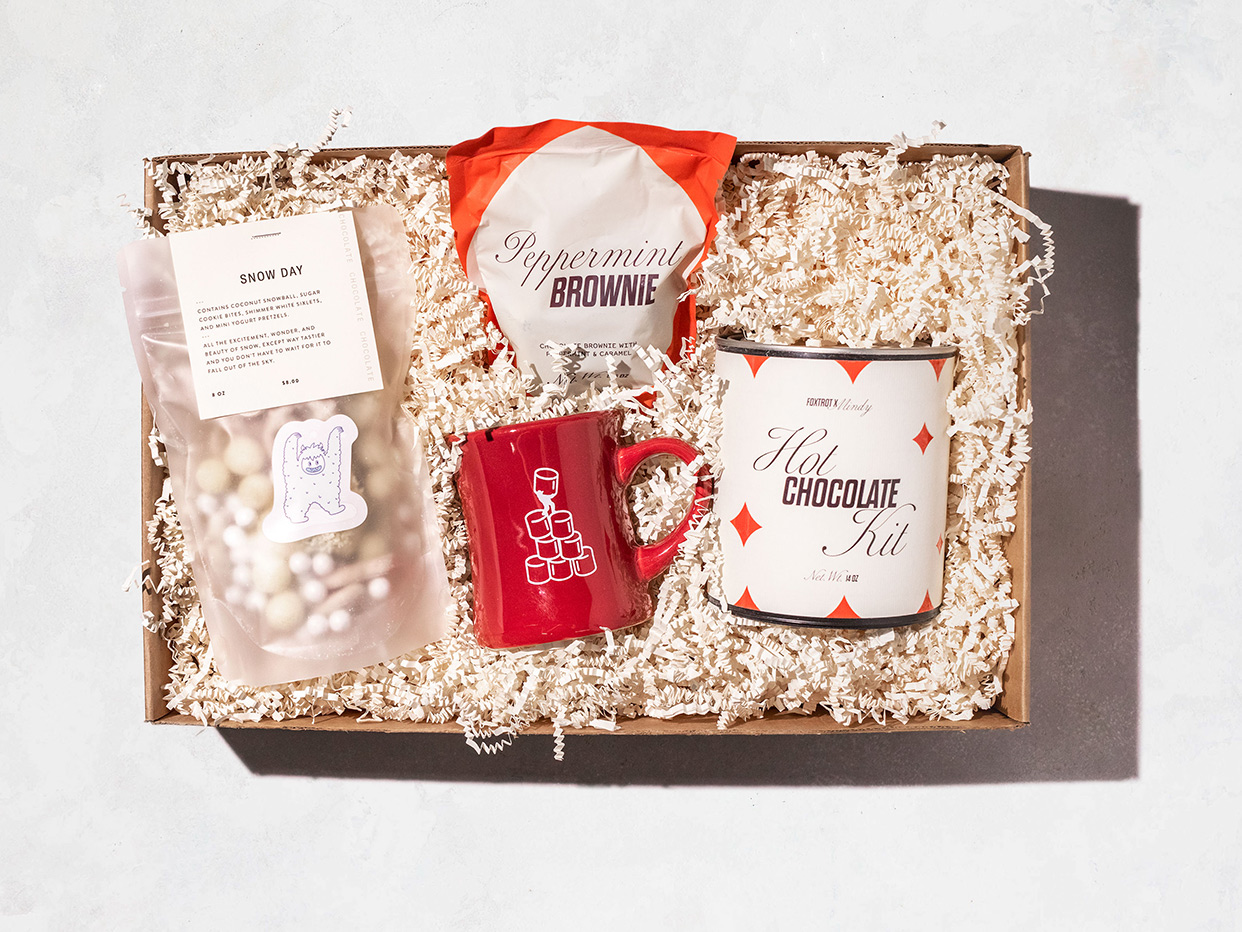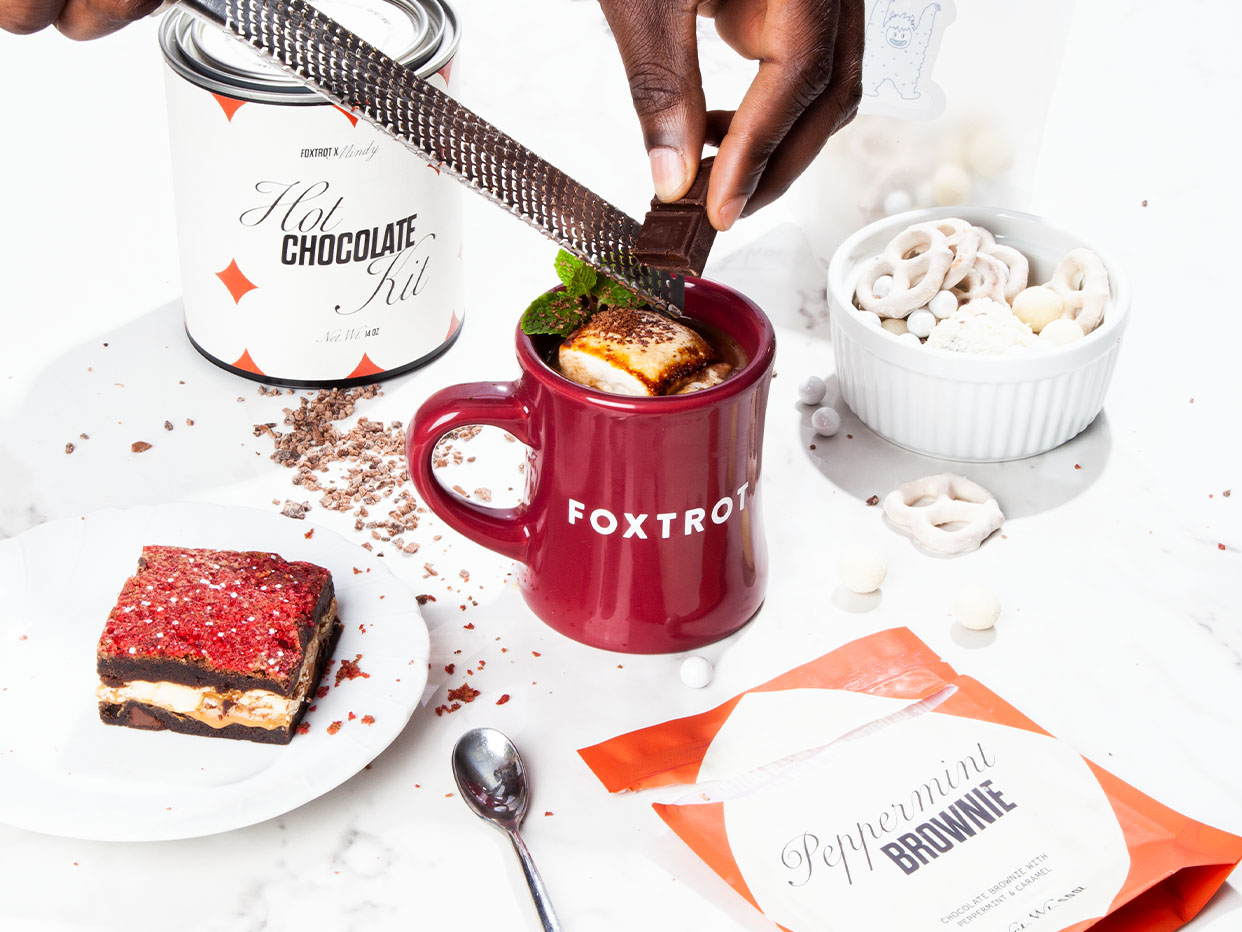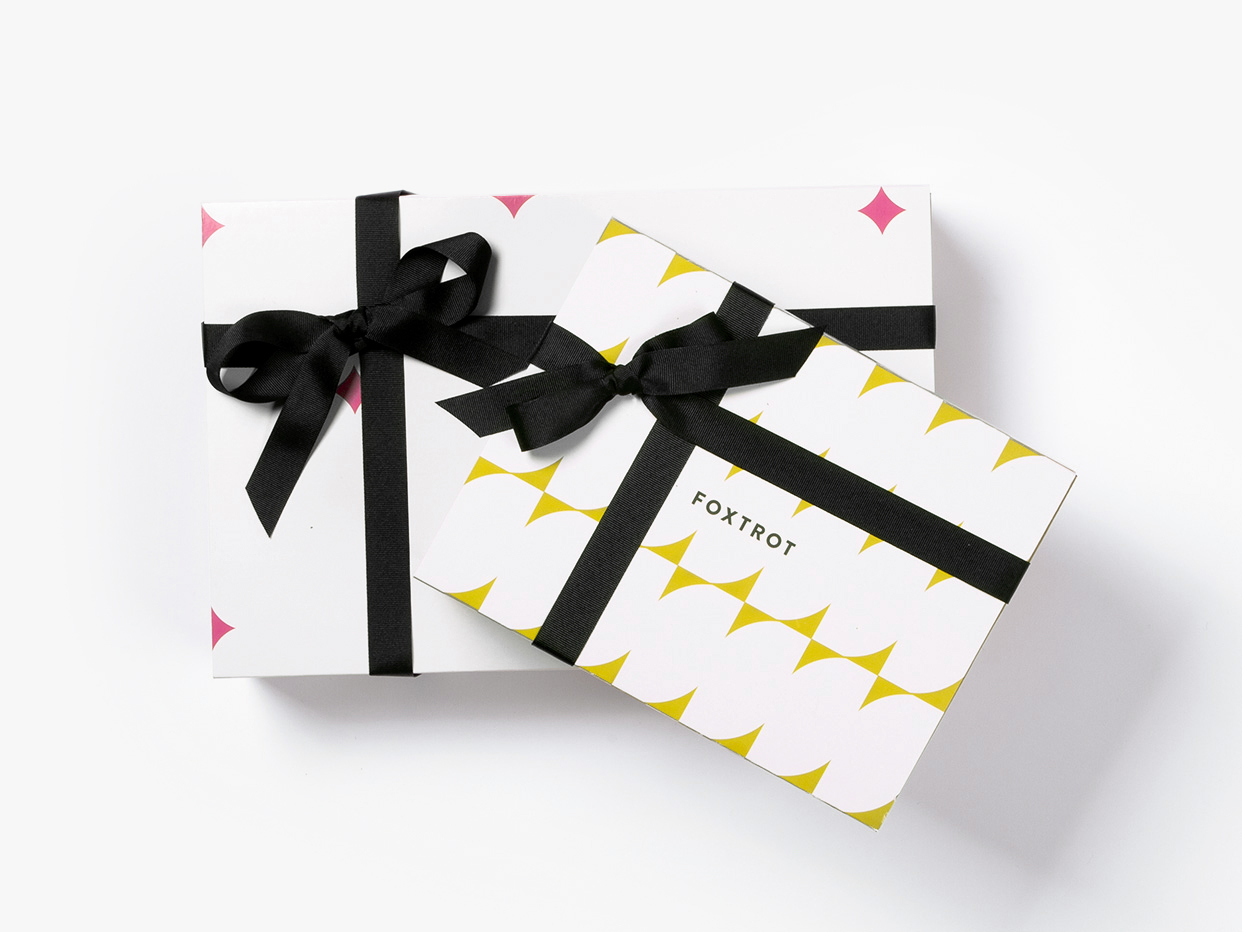 Holiday Hot Chocolate Gift Box
A gourmet hot chocolate kit made entirely of homemade bites. Featuring a custom hot chocolate mix from James Beard award-winning Pastry Chef Mindy Segal, our scratch-made Peppermint Bark Brownie, a custom 'Snow Day' candy mix of nutty, creamy, sweet bites for the crowd, and a red holiday-themed diner mug to complete the moment.
Why You'll Love It:
Because is it really the holidays without a piping mug of hot chocolate? Our James Beard award-winning pal Mindy Segal made the perfect recipe to cozy up with after some fun in the snow, accompanied by a bit of minty, rich indulgence homemade by us. All held together in a nostalgic red diner mug with some sweet-and-salty bites on the side, friends, and fam can find a new holiday ritual in this gift any day.
Holiday Hot Chocolate Gift Box
What's Inside
Foxtrot x Mindy's - Hot Chocolate Kit
A tin of homemade hot chocolate mix crafted in collaboration with James Beard award-winning pastry chef, Mindy Segal in Chicago, IL.
Why You'll Love it
We've all had hot chocolate, but has a world-renowned pastry chef ever made it for you? Now's your chance to up your holiday tradition with a deliciously fragrant mug of hot chocolate made from the best craftsmanship, creamy textures, and soul-warming ingredients.
Foxtrot - Peppermint Brownie
Our very own, homemade holiday treat made with peppermint and caramel creme sandwiched between two thick homemade chocolate brownies. Baked fresh by our own team of pastry chefs in a facility that handles peanuts and tree nuts.
Why You'll Love it
So tender. So chewy. So soul-warming and brisk feeling all at the same time. We've been concepting this delightful indulgence since the summer, and the result makes us feel like a kid in a candy store again (except better because we're adults with adult money, so we can buy like four of these).
Foxtrot Chocolate Mix - Snow Day
A custom, festive chocolate mix containing coconut snowballs, sugar cookie bites, shimmer white sixlets, and mini yogurt pretzels.
Why You'll Love it
All the excitement, wonder, and beauty of snow, except way tastier and you don't have to wait for it to fall out of the sky.
Holiday Diner Mug
A classic, ceramic, burgundy-colored diner mug featuring that one dude who stacks marshmallows on top of each other. 8oz.
Why You'll Love it
You thinking what we're thinking? Hot chocolate.
Gift Wrapping
Custom Foxtrot gift wrapping.
And did you know our gift wrapping is free for orders over $50? Just select it at checkout, pick out a notecard, and it's on us!
Continue Shopping