Foxtrot Anywhere - De Soi's Happier Hour Gift Box
Introducing the 'Happier Hour Kit' curated by De Soi and their co-founder, Katy Perry. De Soi's line of non-alcoholic, adaptogenic aperitifs is joining us for Happy Hour so we can hang without the hangover. Includes a can of De Soi "Champignon Dream" and "Purple Lune," Toodaloo's "Slow Your Roll" sprouted nut mix, a box of Partake's allergy-free Chocolate Chip Cookies, Carolyn Krisps' plant-based "Cheddar Krisps," plus an emerald-green Martini Glass.
Why You'll Love It:
You can't have a good cocktail without the right snacks. So to set the mood just right, the co-founder of De Soi, Katy Perry, handpicked the menu herself. Inspired by European aperitif culture, De Soi's dreamy blends are the perfect evening slow-sipper that provides health benefits with a side of patio vibes. And to accompany a balanced and juicy cocktail are shareables like Toodaloo's mapley-crunchy mix of sprouted nuts some just-like-mom-used-to-make Chocolate Chip Cookies, plus savory plant-based "cheddar" crackers. Don't forget your new glassware: pinkies out.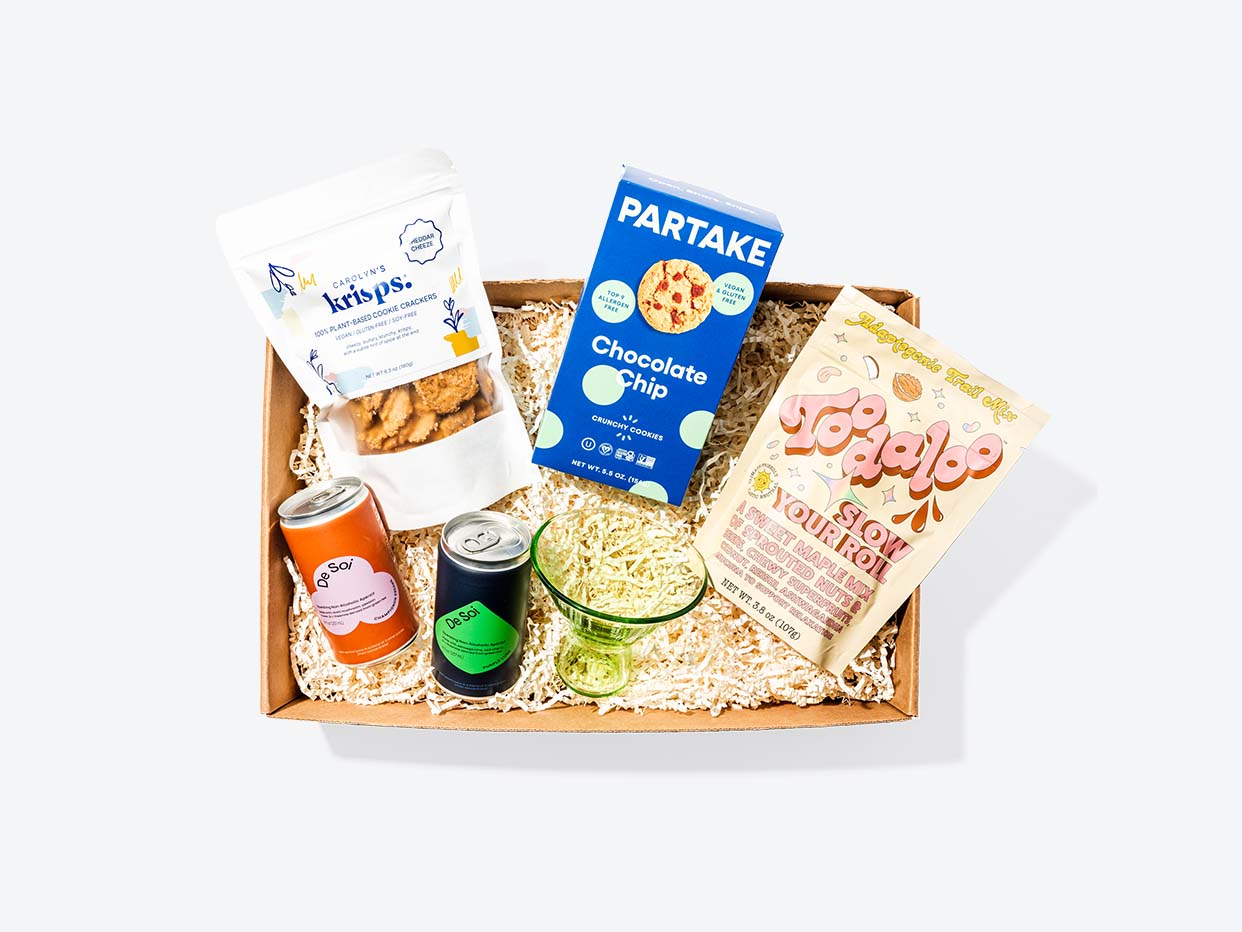 Foxtrot Anywhere - De Soi's Happier Hour Gift Box
What's Inside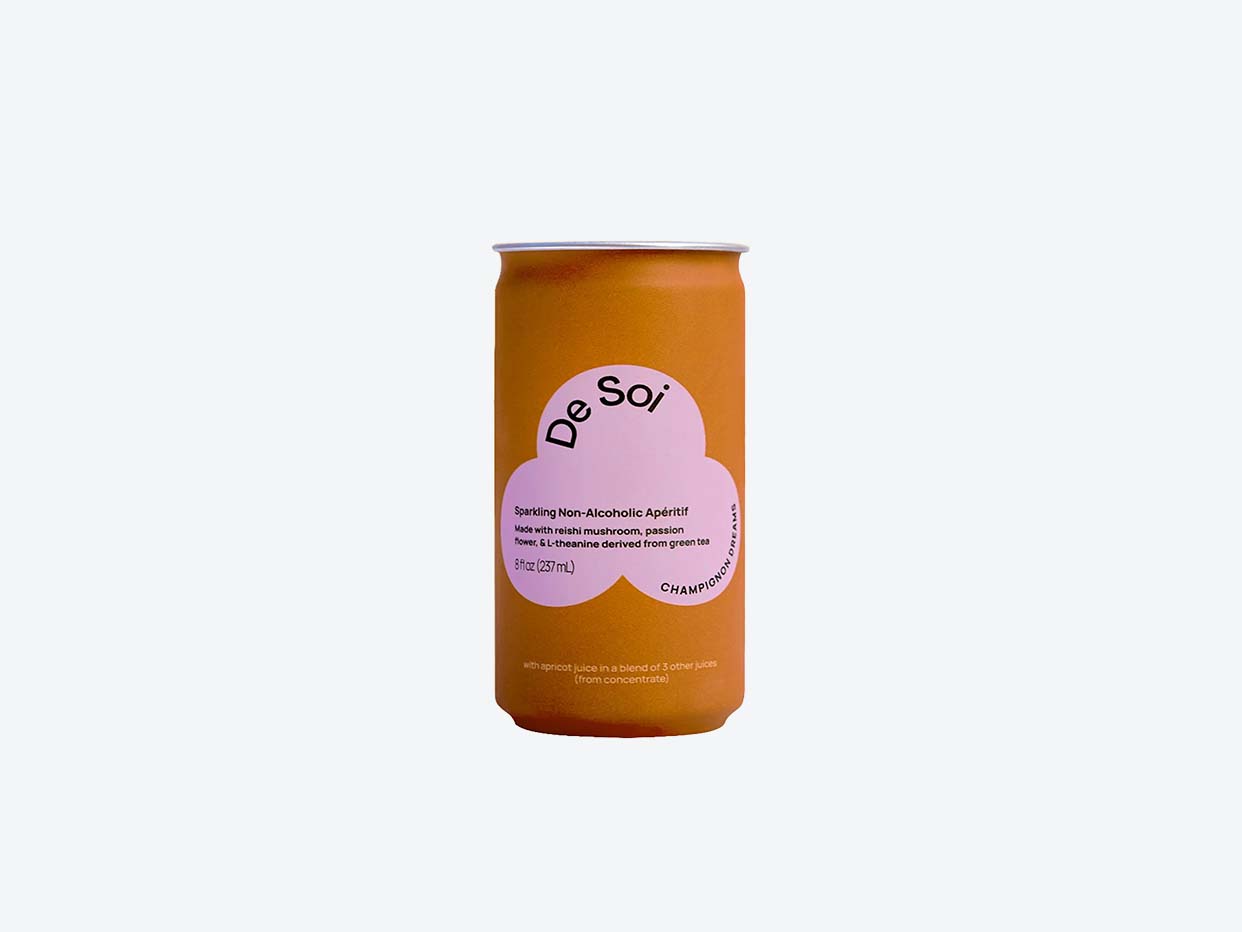 De Soi - Champignon Dreams, Single Can
Sparkling, non-alcoholic, ready-to-drink aperitif. Made with relaxing reishi mushroom, soothing passion flower, and L-theanine derived from green tea. Hints of sticky summer strawberries, bitter grapefruit, and earth. Vegan, gluten-free, no artificial colors or flavors.
Why You'll Love it
De Soi is a forward-thinking, woman-founded beverage co. inspired by the French way of thinking that prioritizes pleasure and moderation. Think subbing out the overpriced cocktail bar for a drink brimming with botanicals, adaptogens, and herbs that are ready to sip when you are. Each flavor is totally non-alc.—"finds pleasure without the proof," co-owner Katy Perry says—and is perfect for toasting with friends or as a solo wind-down.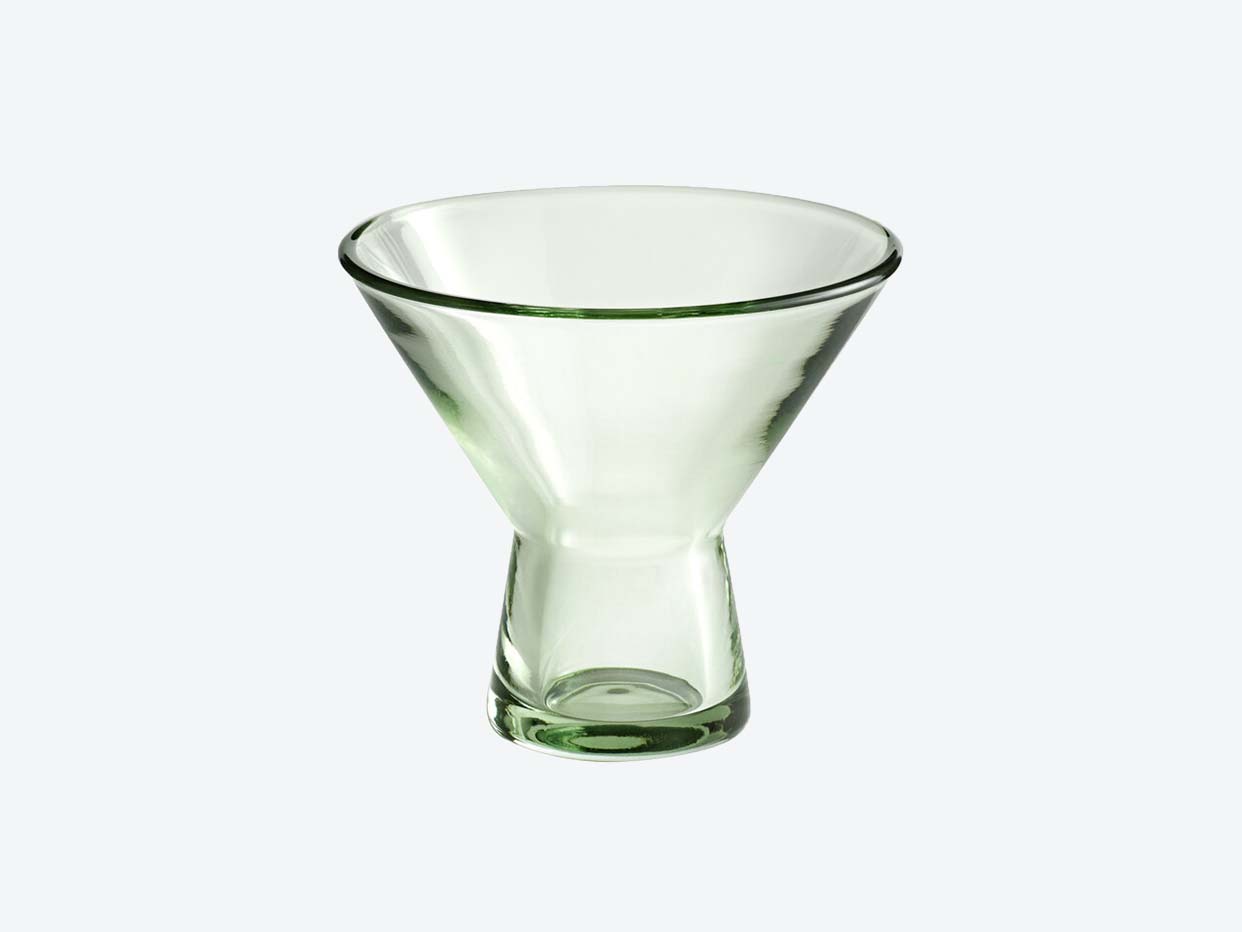 Green Martini Glass
A festive, vintage-inspired 6 oz. martini glass finished with thick glass construction for durability.
Why You'll Love it
Because we were shopping for a martini glass that's as unforgettable as the cocktails you create for it.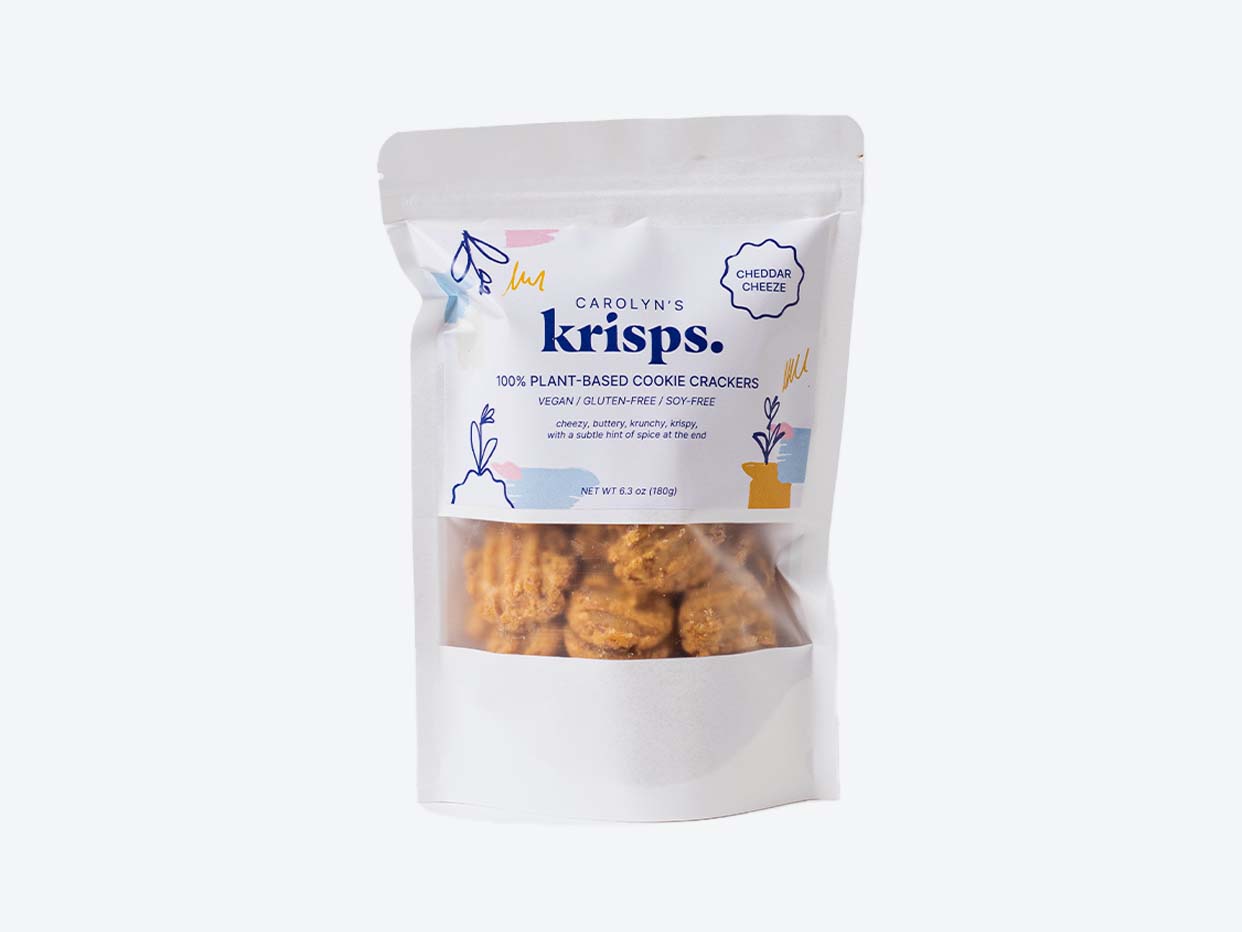 Carolyn's Krisps - Cheddar Krisps
100% plant-based snack with the looks of a cookie but the crunch and crispiness of a cracker. Made with a savory vegan "cheese" blend and spices. Gluten and soy-free. Vegan.
Why You'll Love it
We all know by now that the future of food is in plants. Carolyn's Krisps is down with this, too, which is why they made the best version of a vegan, plant-based snack that combines sweet with savory. With a little dash of spice mixed in, think of these as goldfish in cookie form with a kick. Perfect for snacking by the bowl, or dunking in your soup.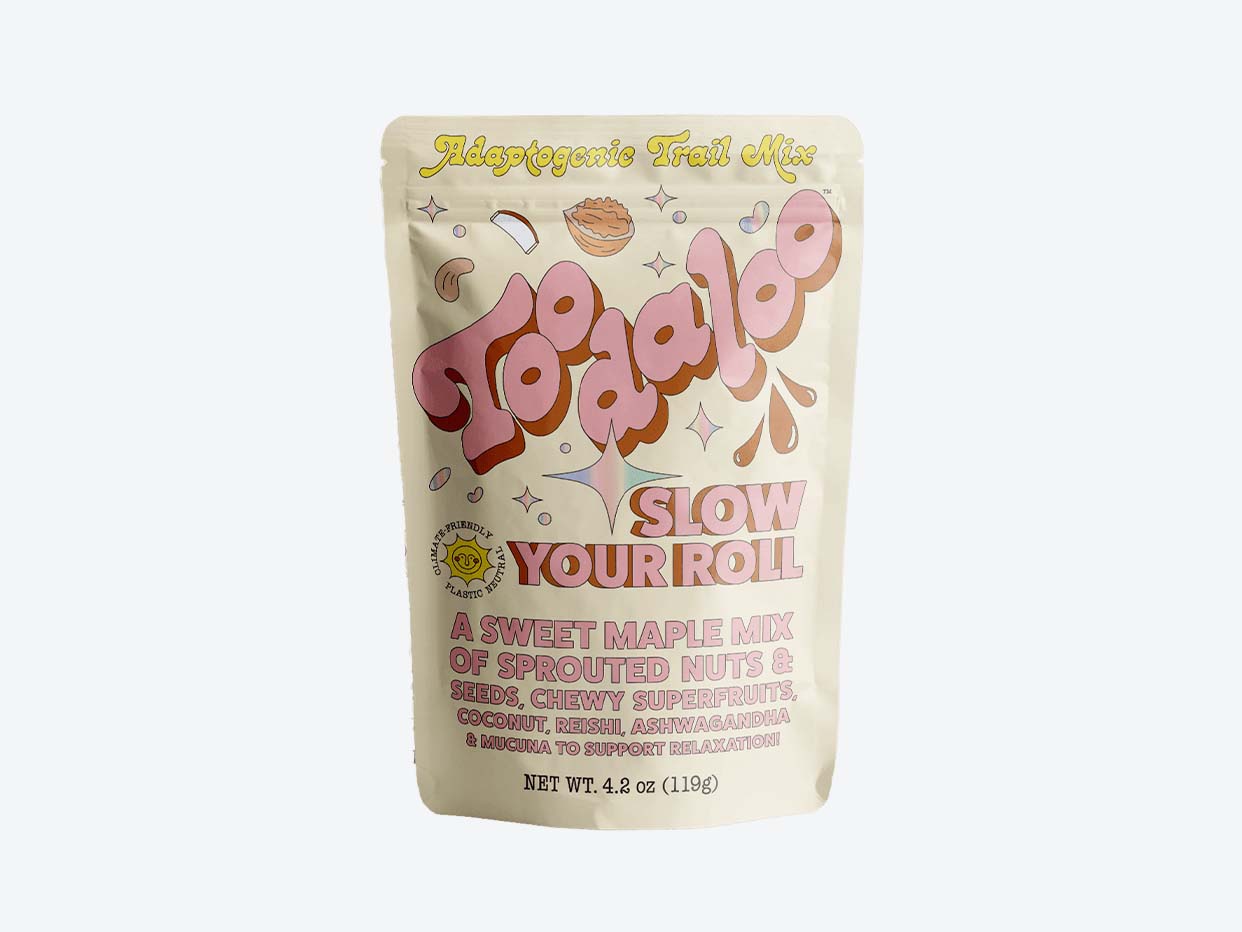 Toodaloo - Slow Your Roll
An adaptogenic trail mix blend made from a maple brittle with raw & sprouted cashews, walnuts, coconut chips, cashew butter, mulberries, ashwagandha, reishi, and mucuna herbs to support relaxation.
Why You'll Love it
As trail mix snobs, Toodaloo shoots to the top of our list—not only because it's satisfying and delicious as hell, but because this natural, unique blend naturally helps lull us into a state of relaxation.
Partake Foods - Crunchy Chocolate Chip Cookies
Partake's a sweet treat with a sweet mission—crafting cookies and baking mixes that give delicious peace of mind to those with dietary restrictions and "how is this so good?" enjoyment to everyone else.
Why You'll Love it
The icon. The classic. The chocolate chip cookie! And now that it's devoid of the top 12 allergens EVERYBODY will be coming back for 2nd's.
Gift Wrapping
Custom Foxtrot gift wrapping.
Did you know our gift wrapping is free for orders over $50 and Members+?
Continue Shopping