Pizza Night! Gift Box
Let's make pizza! This gift box of goodies is an at-home pizza kit in one, featuring: local to Chicago Pirro's homemade pizza sauce; savory Tempesta Salami; Jacobsen's hand-foraged sea salt from the Pacific coast; Spice House's organic crushed red chili flakes; Hayden Flour Mill's hand-cultivated pizza flour; and your very own stainless steel pizza rocker from Lamson.
Why You'll Love It:
Extra points if you can twirl the dough in the air, but at the end of the day this gift box is all about celebrating the best-tasting pizza you'll ever make. And did we mention it basically comes with a sword? With the help of the highest quality ingredients and supplies we could find, the result of this gift box is a practice in family-owned deliciousness, a fun night-in making supper, and discovering that flakey sea salt on pepperoni pizza has been the GOAT all along. Just add cheese.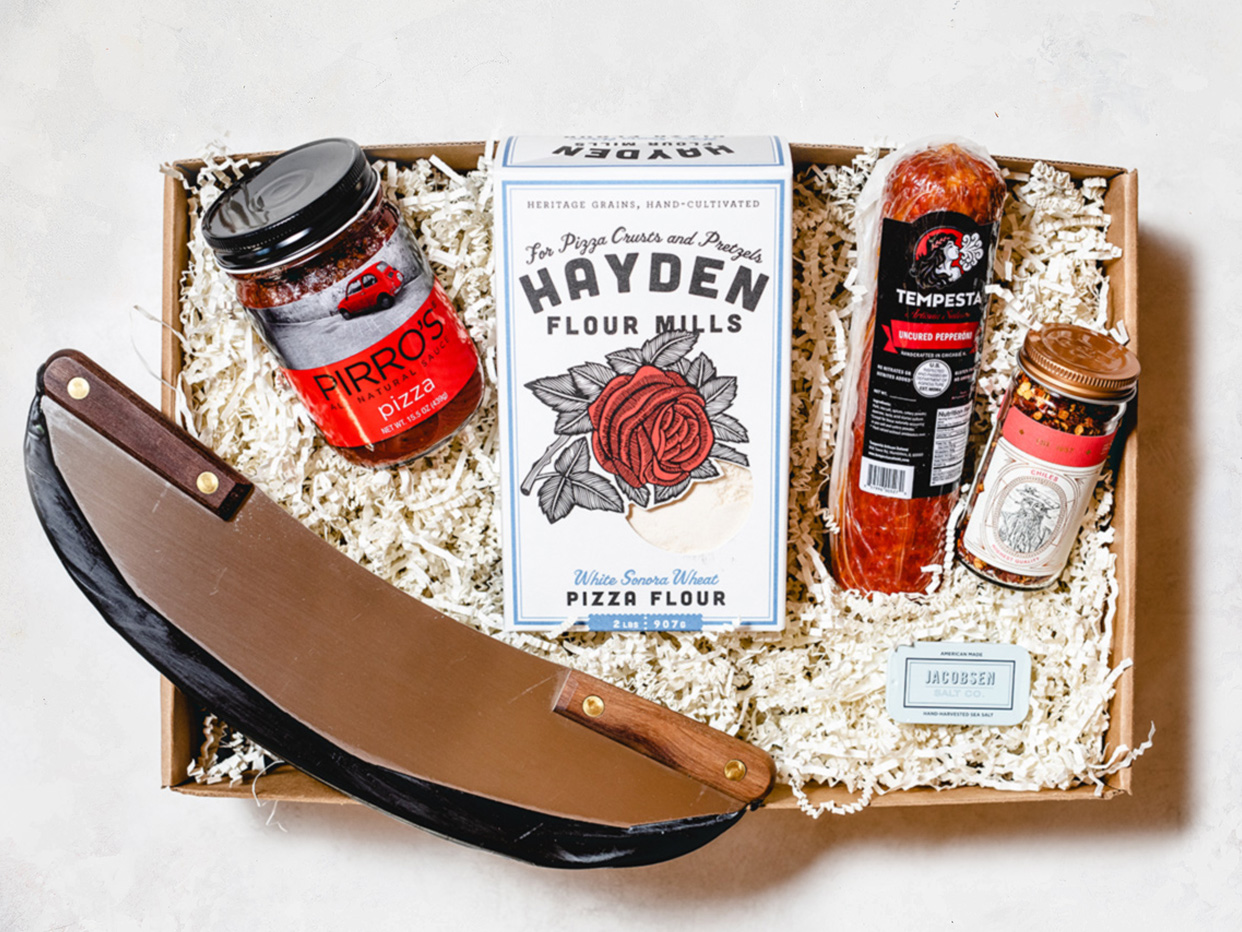 What's Inside
Lamson Pizza Rocker Knife
12" stainless steel pizza rocker with walnut wood handles. Made in Massachusetts since 1837. Handwash only.
Why You'll Love it
Every home chef needs premium tools, and Lamson's been giving us ours for over a century! This pizza rocker knife ensures straight, complete cuts for even the heftiest of doughs.
Spice House - Crushed Red Chile
Responsibly sourced crushed red chile flakes from Spice House in Chicago, IL. Prime for adding moderate, cheery heat to sauces, pizzas, and sausages.
Why You'll Love it
If you're shopping this iconic staple of the Italian table, we're happy you found Spice House. From A to Z (Adobo to Za'atar) they've been purveying the most exquisite, responsibly-harvested spices, herbs, blends, and extracts both for home cooking and in Michelin-star restaurants; relationships run 60 years deep with premium distributors! Ou, and when you run out (are you making that much pizza?), hit them up for a refill pack.
Pirro's Pizza Sauce
All-natural tomato-based pizza sauce homemade by the Pirro family in Chicago. Passed down the family tree, Pirro's recipe features the freshest ingredients, including tomatoes, salt, spices, black pepper, and garlic powder.
Why You'll Love it
Each jar passes through Grandma Pirro's taste test and highest standards before being sent to your pantry—all to ensure authentic taste and a whole lotta love is entering your belly. For topping on pizzas, dipping mozzarella sticks, or even atop some fried ravioli.
Tempesta - Uncured Pepperoni
100% dry-aged, uncured pepperoni seasoned with cayenne peppers, fennel seeds, and imported paprika. Handcrafted in Chicago, IL from family farm-raised animals in the Midwest.
Why You'll Love it
The added fennel, the imported paprika, the effects of time upon flavor in the fermentation: this is an exemplary example of what Tempesta is all about. All derived from family farm-raised pork in the Midwest, small-batch spice traders, and locally sourced produce, Tempesta is bringing natural taste and traditional sentiment into your home. So come pizza night, of course we only had one choice.
Hayden Flour Mills Pizza Flour
Hand-cultivated, heritage pizza flour from Hayden Flour Mill's minimal intervention recipe. The perfect blend of freshly milled Hard Red Spring, White Sonora, and just a touch of Blue Beard Durum flours.
Why You'll Love it
The custom mix of these flours results in 100% the most smooth, flavorful, and crispy crusts we've ever made at home. The texture and flavor aside, Hayden Flour Mills makes creating your own pizza dough at home fun and easy for everyone!
Jacobsen's Sea Salt Slide Tin
Pure flake sea salt hand-harvested from the Oregon coast.
Why You'll Love it
Because it's always good to carry a little seasoning for camping, sampling garden veggies, and the occasional bland potato salad at the potluck (no shade). It's Jacobsen's 19th c. craft and their commitment to culinary that makes them a pantry staple.
Gift Wrapping
Custom Foxtrot gift wrapping.
Did you know our gift wrapping is free for orders over $50 and Members+?
Continue Shopping