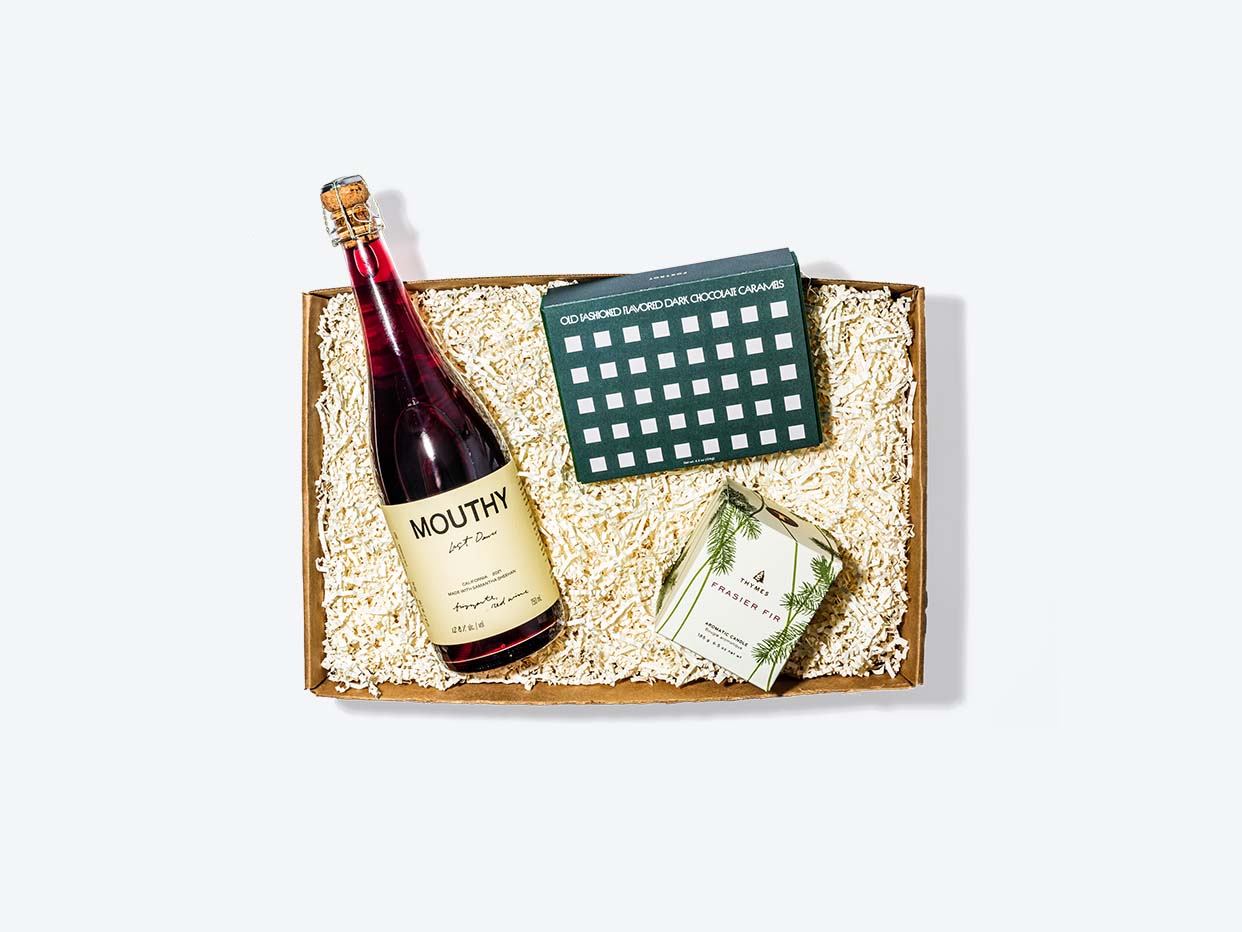 Season's Greetings
We ship toAll wines are sold and shipped by participating wineries.
Our take on the staple holiday gift includes the evocative scent of Fraser Fir from Brooklyn Candle Studio, homemade Old Fashioned Flavored Dark Chocolate Caramels for the dessert tray, and a dry dark-red fruited sparkling Syrah that complements the season. Comes pre-packed in one of our gift boxes.
Why You'll Love It:
This immersive gift wraps the room in pine, fills every glass with Lambrusco-style holiday cheer, and shares rich craft caramels for all. It's perfect for just about every holiday gathering and person you're visiting.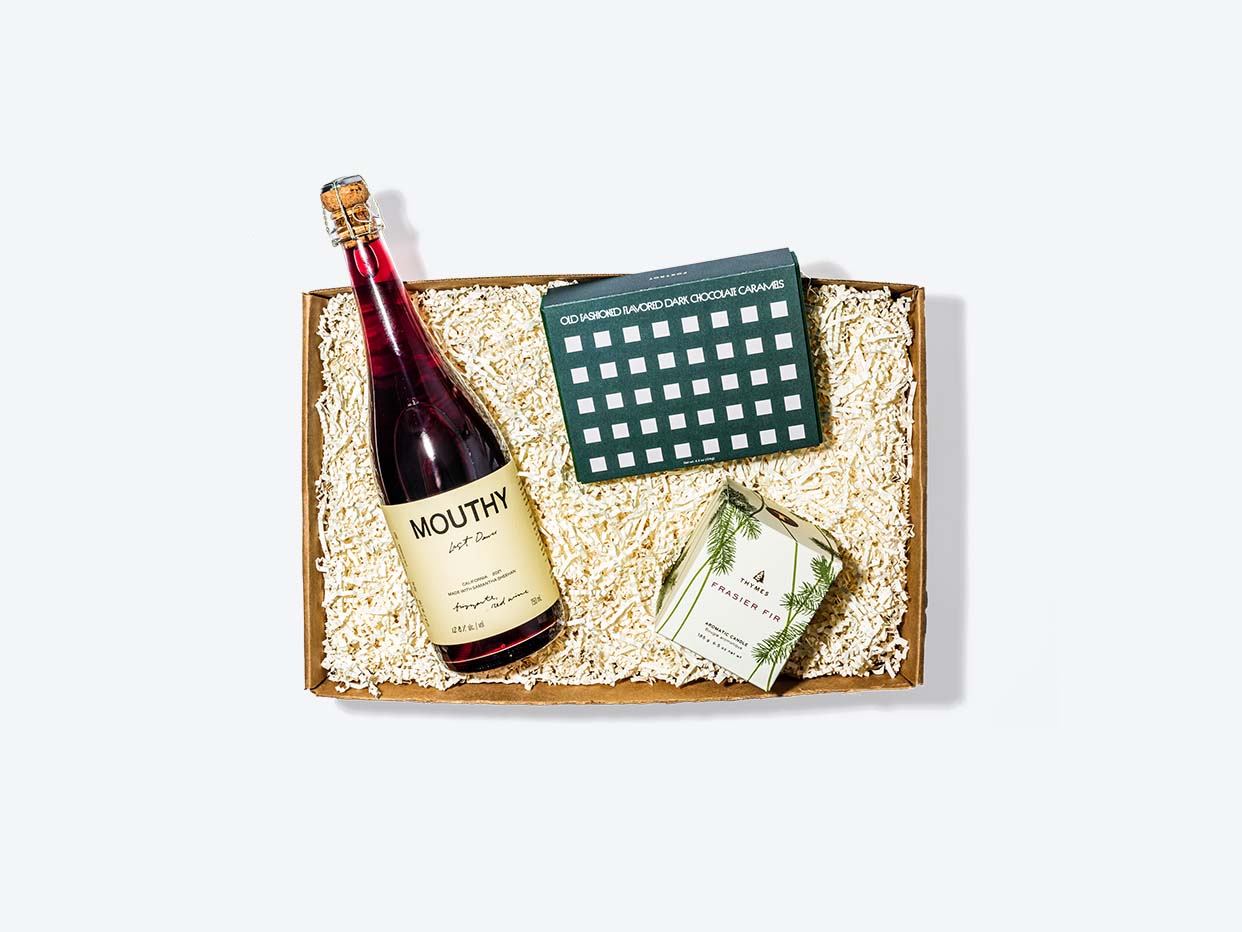 What's Inside
Foxtrot Old Fashioned Flavored Dark Chocolate Caramels
Our own rich, old fashioned-flavored dark chocolate caramels made just for the holidays. Made with heavy cream, sugar, dark chocolate, luxardo cherries, butter, and sea salt. Available for a limited time only!
Why You'll Love It
The balanced bitters and spice of an old fashioned meets the depth and sweetness of chocolate caramel. This is that relax-into-a-big-comfy-chair candy, and perfect for sharing at the holiday function. Cocktail buffs and newbies alike will love what we've made here.
MOUTHY WINES, "Last Dance" Frizzante
Last Dance is a Lambrusco-inspired California Syrah. Made by expert winemaker Samantha Sheehan, this is the second release from Mouthy, a collaborative wine project focusing on overlooked regions and rule-breaking wine styles. Syrah grapes sourced from Lodi, California are vinified like a still wine, but then the tank is sealed in the last bit of fermentation (ie "Last Dance") to trap remaining CO2 and produce a gently sparkling red.
Why You'll Love It
A departure from the sweet, jug Lambrusco favored by previous generations, this gently sparkling Syrah is a drier, more complex frizzante red. Moderate in alcohol with dynamic flavors of dark red and purple fruits, rhubarb, cola and flowers. It has a touch of sweetness with great acidity and tannins that balance the wine and make it perfect with pepperoni pizza, cheeseburgers, or chocolate. This is a wine to have fun with. Drink it on its own, pair it with savory food, pour it over ice for hot days, mix it with some aperitivo to shake up your spritz game, or even use it as a float on a whiskey sour.
Winemaking Style
Organic farming, Syrah fermented in tank Pet-Nat style, minimal sulfur. Tasting notes and serving tips: Dark red and purple fruits, rhubarb, cola, flowers. Juicy, semi-sparkling with a touch of sweetness balanced by acidity and tannins. Food-friendly. Serve with a slight chill.
Thymes Frasier Fir Pine Needle Medium Candle
Siberian Fir needles, cedar wood, and sandalwood. Travel-sized in a gold tin for smaller spaces, this is an eco-friendly burn for up to 45 hours.
Why You'll Love It
What better way to inform a mood than with a scent? The fresh snap of Fir; the comfort of mountain fresh air; all setting the tone of those intimate spaces both near and far with Thymes's timeless scent of the holiday season.