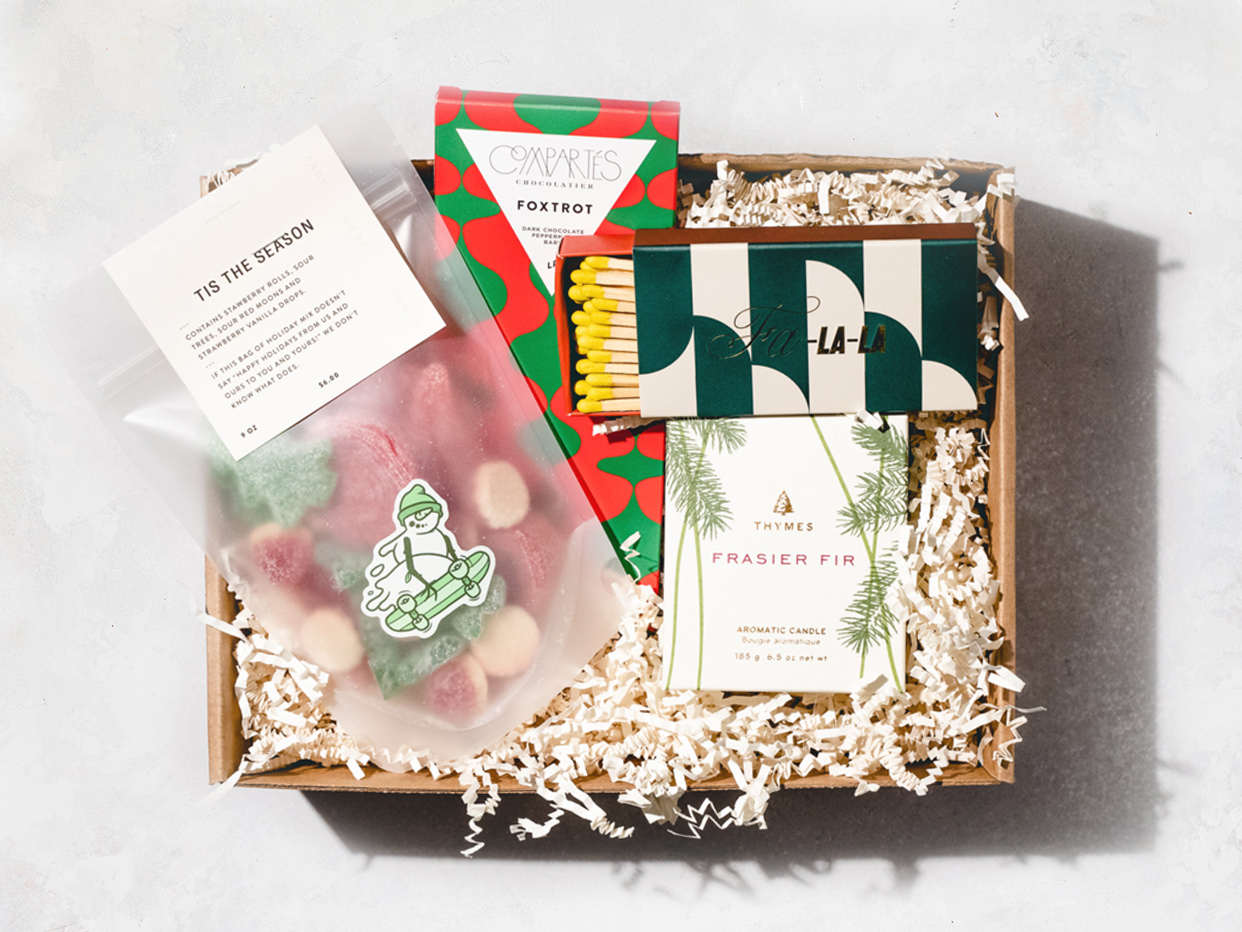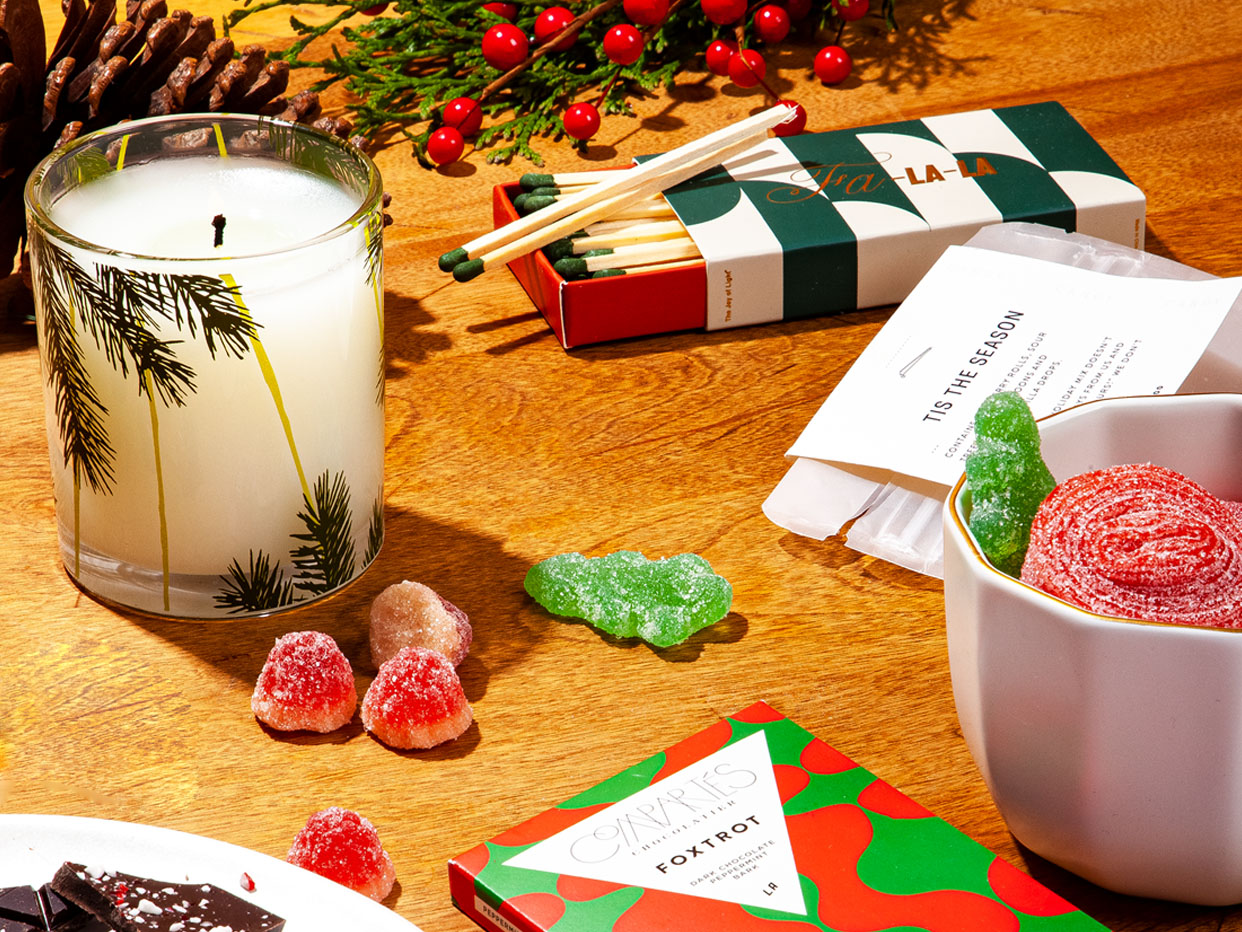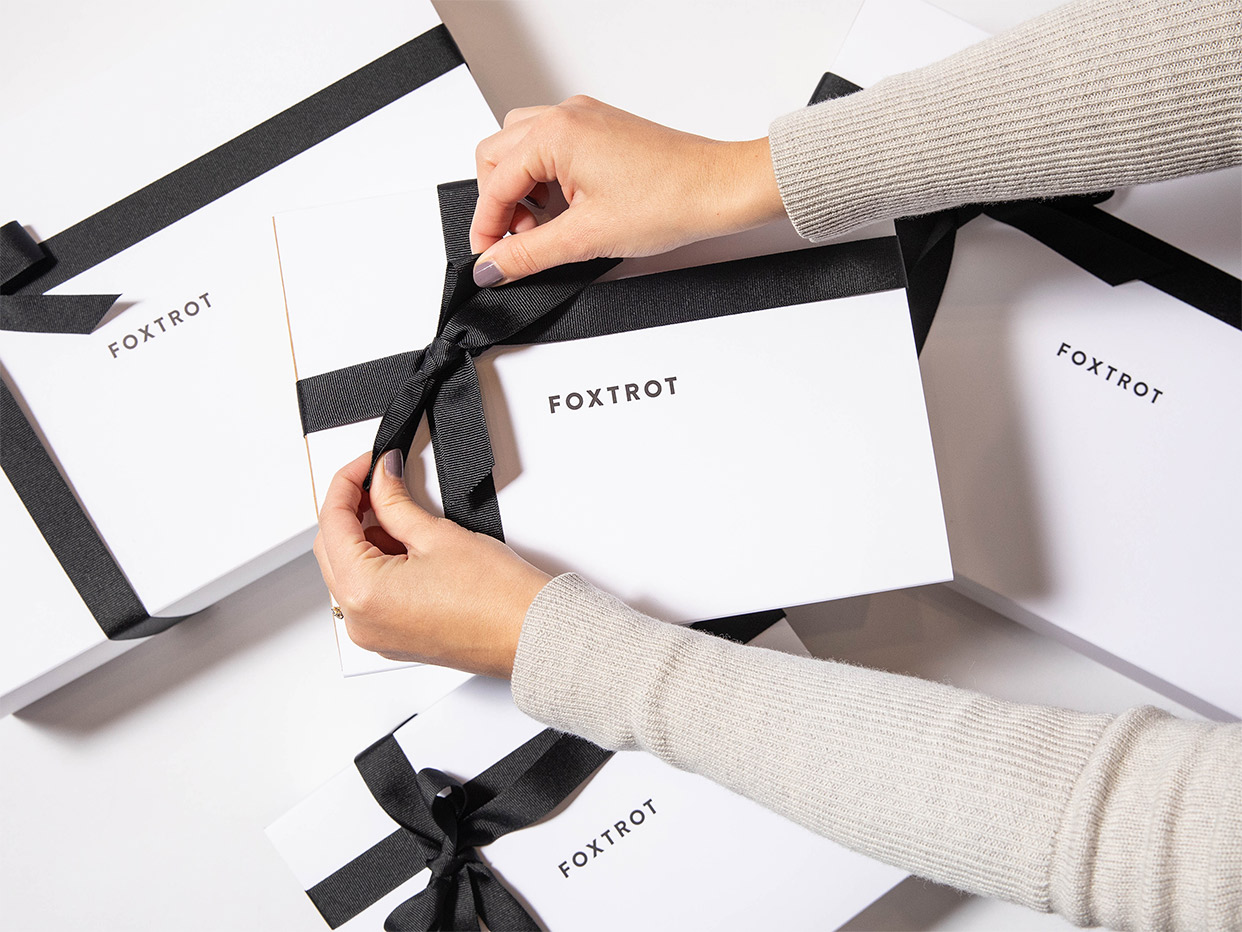 Tis the Season Gift Box
A craft holiday kit of everybody's winter favorites. Featuring Thymes' Frasier Fir Candle made with natural oils, our crowd-pleasing seasonal gummy mix to add some sweet-and-sour to the party, and our custom Peppermint Bark collaboration with renowned chocolate makers Compartes. Accompanied by a holiday matchbox.
Why You'll Love It:
This is the go-to way of saying, "from us and ours to you and yours," all with a custom assortment of holiday musts you'll only find with us! For the host at the holiday mixer, for your friend celebrating across the country, or to jolly-up your own space—this gift box is chock full of all the signature flavors and seasonal moments that make spreading holiday cheer easy and delicious.
What's Inside
Foxtrot Tis the Season Gummy Mix
A custom, wintery gummy blend of strawberry rolls, sour trees, sour red moons, and strawberry vanilla drops.
Why You'll Love it
If this bag of holiday mix doesn't say "Happy Holidays from us and ours to you and yours!" we don't know what does.
Compartes x Foxtrot Peppermint Bark
A special, limited collaboration with Compartes Chocolatiers in LA, California—featuring an original peppermint bark recipe with single-origin dark chocolate.
Why You'll Love it
Is it the holidays without the cool, brisk taste of peppermint and robust, sweet chocolate? No matter how you celebrate, this is a yearly staple, so we wanted to do something extra special with our pals at Compartes with a festive design and an even more festive taste.
Fa La La Matches
Thymes Frasier Fir Pine Needle Medium Candle
Siberian Fir needles, cedar wood, and sandalwood. Travel-sized in a gold tin for smaller spaces, this is an eco-friendly burn for up to 45 hours.
Why You'll Love it
What better way to inform a mood than with a scent? The fresh snap of Fir; the comfort of mountain fresh air; all setting the tone of those intimate spaces both near and far with Thymes's timeless scent of the holiday season.
Gift Wrapping
Custom Foxtrot gift wrapping.
And did you know our gift wrapping is free for orders over $50? Just select it at checkout, pick out a notecard, and it's on us!
Continue Shopping